Payday loan middlemen face crackdown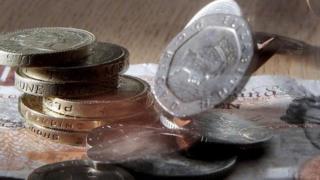 Thousands of payday loan middlemen face tough new rules after the City watchdog highlighted "blatantly unfair" treatment of customers.
Borrowers have complained about credit brokers taking fees without permission for "half-hearted promises" of payday loans.
Some have complained that they thought the brokers were, in fact, lenders.
The Financial Conduct Authority (FCA) said clear contracts must be made explaining fees that could be levied.
New rules, that come into force on 2 January, mean that credit brokers must give clear information to customers about who they are, what fee is payable, and how payment can be made.
In addition, seven brokers have been stopped from taking on new business while investigations into their actions take place. Another three have already been told they could face a fine or lose their licence to operate.
Complaints
The money is being taken by online brokers, who offer to find consumers the best payday loan for them. Typically they charge between £50 and £75, but fees can be levied on three or four occasions.
Often customers are unaware they are going to be charged, that they have given their consent for a payment, or that their details have been passed around as potential customers.
The issue was highlighted in October when NatWest said in one case, a man had taken out a £100 loan, but was charged £700 in fees.
The Financial Ombudsman Service said that it had received 13,348 complaints between April and the end of October. That compared with 6,376 calls during the whole of the previous year.
Owing to the swift rise of payday credit brokers, primarily online, and the number of complaints, the FCA said that it was bringing in the new rules without consultation with the industry.
"The fact that we have had to take these measures does not paint this market in a particularly good light," said Martin Wheatley, chief executive of the FCA.
"I hope that other firms will take note that where we see evidence of customers being treated in a blatantly unfair way, we will move quickly to protect consumers from further harm."
But the FCA said that the new rules would not come into force for a month, as tens of thousands of brokers needed to prepare for the new requirements.
'Screws tightened'
The move has been welcomed by various groups within the payday and credit broking industries.
John Lamidey, policy adviser for the Consumer Credit Trade Association, said that the "screws had been tightened" on brokers who did not make it clear how they operated and who charged a fee upfront.
He said traditional brokers would not charge a fee until a loan had been secured, and that the cost would sometimes be borne by the lender, not the borrower.
He expected a number of online brokers to disappear as a result of the FCA's action.
Russell Hamblin-Boone, chief executive of the Consumer Finance Association, which represents some payday lenders, said: "We have been calling on the FCA to tackle broker practices and so welcome its decision to act early.
"Many of the customer problems that we see have been caused by these middlemen, but are often wrongly attributed to lenders."
Economic Secretary to the Treasury Andrea Leadsom said: "I welcome the robust action taken today which will clamp down on this appalling practice which is causing customers real harm."
However, the StepChange debt charity said that it wanted to see upfront fees banned if a broker was unable to find a customer a loan.