How Ikea assembled a win in Poland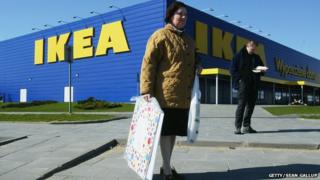 Enter the home of any young person in any Polish city and there's a high chance you'll settle down on a piece of furniture made by Ikea.
Poland is Ikea's fastest growing market in the European Union, and is behind only Russia and China in the rest of the world.
Of the most powerful foreign brands in Poland, Ikea is number three, beaten by Google and Coca-Cola, according to research carried out for the BBC by the international consultancy Millward Brown.
So why is the flatpack furniture company such a sensation in Poland and how did it manage it?
Space race
"We have created a very deep understanding of how people live," Evelyn Higler, the chief executive of Ikea Retail in Poland, tells the BBC.
"The starting point is to listen to people and be in their homes because we do thousands of home visits yearly. We look at what their needs and dreams are. We are actually creating products that fit people's home lives."
Looking around the small mocked-up living room in the store, I can see what she means.
More than half of Poles live in homes with just one bedroom, Ikea's research shows, which means parents often sleep in the living room.
"Half of our room settings consist of a sofa bed because we know that it's relevant for people at home," Mrs Higler says.
"Of course our products need to be well-designed and functional but at a price that many can afford them."
Shared history
Unlike many global firms Ikea can trace its routes in Poland back to the early 1960s.
Swedish founder Ingvar Kamprad began the business in 1943, selling postcards and pencils.
He added furniture five years later with the idea to produce functional, well-designed products at a low price by placing large orders with suppliers and reducing costs.
But his competitors put pressure on Swedish suppliers, forcing him to look elsewhere and in 1961 he placed his first order for chairs with a company in the Polish city of Radom.
Ikea has been present in Poland ever since and now the country is the company's second largest supplier in the world.
But it was more than 30 years until an Ikea store actually opened in the country.
When communism fell in the late 1980s and it became clear that the changes were here to stay, foreign companies began to enter the market and Ikea opened its first small outlet in 1993 selling home furnishing accessories.
"The Polish economy was particularly weak in three areas - exports, financial services and retail sales," says Stanislaw Gomulka, an economist and former finance minister.
"Investors started to look for opportunities and they knew what the weaknesses of the Polish economy were. Now Poland's sales market is dominated by large companies like Ikea and Tesco," he says.
Ikea has also imported its more modern style to Poland by targeting the younger aspirational new professional.
"Ikea design is different to traditional look of Polish furniture which is quite baroque in style." says Pawel Ciacek, from Millward Brown, Poland.
"Being minimalistic and yet relatively affordable it has become a sign of a new middle class lifestyle, clearly differentiating it with the old, traditional one," he says.
Flatpack plans
With its eight stores Ikea now reaches about half of Poland's households. "It's not good enough," Mrs Higler says, adding that a new store is scheduled to open next year.
The company has big plans. It wants to increase last year's turnover of 2.38bn zloty (£453m; $711m) eight-fold by 2035 by adding new stores and services.
Customers may soon find they don't have to struggle to assemble their own furniture too.
Poland's population is shrinking and ageing. More than two million mainly young Poles have left for places such as the UK or Germany since Poland joined the EU in 2004. The country also has one of the lowest fertility rates in Europe.
Ikea is aware of the trend and is planning accordingly, Mrs Higler says.
"When we talk about an ageing population then our concept development is adapting to those needs. Where we used to be very strong in cash-and-carry concepts we are now entering the whole service offer very strongly, so you don't always need to assemble everything yourself," she says.
For now though the formula works for the people in the store.
"I like the colours. There's a lot of stuff for kids, for adults and home decoration. You can find here anything you like," Anna, a 29-year-old physiotherapist, says as she shops in a Warsaw store.
"If you want to buy something quick, I come here," says 41-year-old Krzysztof as he scans the warehouse shelves for his flatpacked furniture.
"Second, the design is quite modern and thirdly, I live nearby."