Suspended Tesco executive to return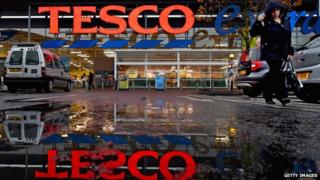 One of the Tesco executives suspended following the £260m profit mis-statement will return to the retailer.
Matt Simister will resume his role as group food sourcing director.
Dave Lewis, Tesco chief executive, made the announcement to staff in an email on Monday.
Mr Simister was one of eight executives suspended while an investigation into the accounting irregularities was carried out.
Mr Lewis said: "During our work it became clear that Matt, in fact, worked tirelessly to resolve the issues we faced. Matt is one of our most capable leaders, and I am confident his leadership will support our agenda in commercial going forward. Finally, Matt's conduct and contribution during our investigation was exemplary and I'd like to personally thank him for that."
The incident, which came to light in September, caused shares in Tesco to plunge, wiping billions off the value of Britain's biggest supermarket chain.
It is understood that four of the suspended executives have now left the company, while the other three remain suspended. Tesco declined to confirm the names of those who have left.
The retailer is being investigated by the Serious Fraud Office over the guidance error, while an internal investigation was carried out by Deloitte and Freshfields.
Executive reshuffle
Meanwhile, the company announced a shake-up of its leadership team on Monday. The changes to the executive committee give Benny Higgins responsibility for group strategy as well as his role running Tesco Bank.
Jill Easterbrook, who had been chief customer officer, will now lead the business transformation programme. Robin Terrell, the former multichannel director who was acting head of UK, is now head of customer, while clothing boss Jason Tarry has been appointed as the head of commercial for the UK and the group.
The reshuffle takes effect on 1 January, until which time Mr Lewis will assume day-to-day leadership of the UK operation. The former Unilever executive started as boss of Tesco on 1 September.
The supermarket has also abolished the role of chief creative officer held by Matt Atkinson, and the position of group business planning and strategy director held by David Hobbs. Both will be leaving the company.
Shares in Tesco closed down 1.4% at 183.3p, valuing the retailer at just under £15bn. The stock has fallen 45% this year.