Union calls for Ofcom probe over Royal Mail decision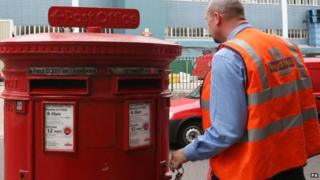 The Communication Workers Union has called for a judicial review of postal regulator Ofcom after it said it would not change rules obliging Royal Mail to deliver across the UK for one price.
The regulator said it saw no reason to force rivals to take on part of the obligation.
Royal Mail had complained competitors were cherry picking profitable areas.
CWU, which represents most postal staff, said the decision was "astonishing".
"The time is now right to begin the process of taking Ofcom to a judicial review for its complete failure to tackle the threat to the sustainability of the universal service obligation head on," said CWU deputy general secretary Dave Ward.
"In criticising Royal Mail's efficiency, Ofcom is preparing the ground for postal workers' terms and conditions and pay to be dragged down to the level of its competitors," he added.
A spokesperson for the union said it was currently consulting with solicitors to prepare its case against Ofcom.
Shares fall
Royal mail's shares closed 3% lower after the regulator decided not to change the universal postal service.
Ofcom found that, at present, "competition is likely to provide Royal Mail with a further incentive to become more efficient."
However, it said it would review the factors affecting Royal Mail's ability to deliver the universal service.
Mail delivery
Under postal market reforms, rivals can apply for a licence to collect, sort and deliver bulk mail.
Other competitors, including Whistl, pay Royal Mail an access fee for it to deliver to customers.
The government has guaranteed that the universal service will continue at least until 2021.
Last week, Moya Greene, the Royal Mail's chief executive, told a committee of MPs that the universal service cost £7.2bn a year to finance, so needed cross-subsidy from profitable urban deliveries.
She said Royal Mail had already seen a "structural" decline of between 4% and 6% in the volume of letters it handles every year.
Efficiency incentive
Ed Richards, chief executive of Ofcom, said: "Ofcom's board has considered all the evidence in the postal market carefully over the past few months.
"We have concluded that there is no present risk to the financial sustainability of the universal service. This conclusion is based on the Royal Mail's own business plan and evidence as well as a range of other data."
He added that Ofcom took its duty to secure the universal delivery service very seriously and would be monitoring risks carefully.
The regulator has started a broader review of the factors affecting the Royal Mail's ability to deliver the universal service, which it will complete next year.
Ofcom said Royal Mail's productivity was improving, but the rate of progress was unchanged from the previous year and "below the company's own targets".
It also said that, in its view, "competition is likely to provide Royal Mail with a further incentive to become more efficient".
"Continued progress on efficiency is crucial if the universal postal service is to be financially sustainable in the longer term."
In a statement Royal Mail said it welcomed the Ofcom review but said it was disappointed that the regulator did not "share the company's view on the threat that unfettered direct delivery poses to the future sustainability of the Universal Service".
Royal Mail added it would be providing "a detailed response" to the consultation.
It said as part of its submission, it would "highlight that commercial freedom, such as flexibility in setting zonal access price [to other mail businesses], has previously been recognised by Ofcom as a means by which Royal Mail can mitigate the impact of direct delivery".
In response to the specific claim that Royal Mail's productivity left room for improvement the company added: "the ongoing decline in letter volumes means that the incentives on Royal Mail to reduce costs are already strong.
"Royal Mail's efficiency measures mean that more than 50,000 colleagues have left the company since 2003 and at least 3,000 people are expected to leave the business this financial year."
Review
Ms Greene told a parliamentary committee last week that she believed the competitive framework of the UK market now meant that the Universal Service Obligation was becoming uneconomic.
But she was been accused of "scaremongering" by the Business Secretary, Vince Cable.
Whistl, formerly known as TNT Post, has been making deliveries in urban areas such as London and Manchester since 2012, but relies on Royal Mail to deliver in rural areas, where costs are higher.