Sam Shank: From horror films to hotels
By Matthew Wall
Business reporter, BBC News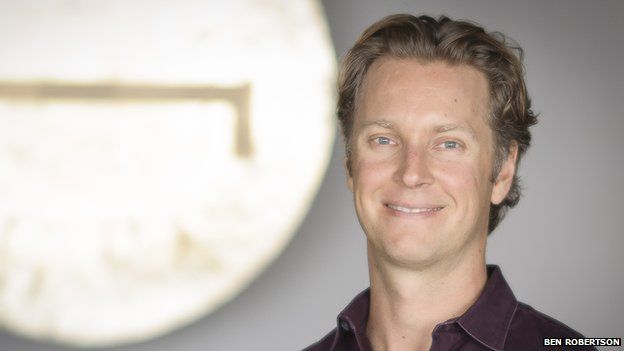 Sam Shank originally wanted to be a hotshot Hollywood film director.
And he got his big break in 1996, while studying English at the University of Virginia.
"I managed to network my way into a job with Wes Craven," says the 41-year-old.
Craven is the famous director responsible for well-known horror movie characters such as Freddy Krueger in A Nightmare on Elm Street, and the ghost mask wearing serial killer in Scream.
So why did Mr Shank give up on the film industry to become a serial dotcom entrepreneur instead?
What happened to the directorial ambitions of the man whose latest venture, hotel booking app HotelTonight, now lists rooms in more than 500 cities around the world?
It turned out that Hollywood was not as thrilling as he'd hoped - even in horror movies.
"I mostly found myself going to the post office, getting laundry and making coffee," says Mr Shank, who is from Charlottesville, Virginia.
"It was not very fulfilling at the end of the day, and actually quite boring a lot of the time. I realised I could be there for the rest of my life without getting to do what I really wanted."
As Mr Shank's Hollywood dream faded, a shiny new industry was emerging in Silicon Valley based around the internet.
So the college graduate moved to San Francisco, and worked for a number of companies in the dotcom arena, including digital publisher Cnet; Excite, the search engine notorious for passing up the chance to buy Google for $1m (£640,000); and NexTag, the shopping price comparison website.
These experiences awakened his dormant entrepreneurial instincts.
"I started becoming fascinated with marketplace business models," he says. "You serve the supplier and the buyer without having to take on the risk of handling inventory or shipping boxes.
"These digital marketplaces couldn't have existed before the internet."
And they were also very profitable, he realised. But then the dotcom bubble burst in 2000, snuffing out many entrepreneurial dreams.
"If every radio commercial you hear is for an e-commerce business, you know you're in a bubble," he recalls. "It was very depressing - everything I'd believed in became like a punch line to a joke.
"I had a lot of money on paper that just went away. But that's OK, it was never really there in the first place," he adds philosophically.
In the aftermath, money for new ventures was tight and public sentiment towards e-commerce companies was "very negative", he says. But despite this, the internet itself of course continued to grow.
To boost his business knowledge Mr Shank then enrolled at the Kellogg School of Management near Chicago to do a Master of Business Administration (MBA).
He also started his first company, TravelPost, a community-based website for people wanting to share their travel experiences.
"But we realised this wasn't a good business because there was no advertising around travel stories," he says. "We quickly moved to a hotel review model, and that proved more successful."
In 2006 and back in California, he sold that business "for some millions" to SideStep, a travel price comparison company, then formed DealBase, a discount travel deal search engine.
This was already a crowded market, however, populated by the likes of Lastminute.com, Expedia, Travelocity and others, so how could he compete with the big boys?
"The thing is you don't have to be the largest to have a successful business," he says.
"The travel sector is huge and isn't going away. But you do have to do something better than the existing guys and something different."
But he admits that these first two businesses "weren't very memorable" or sufficiently different from the competition, despite being profitable and relatively successful.
So he loosened his ties with these and in 2011 started HotelTonight, a last-minute discount hotel booking app.
The idea for HotelTonight came to Mr Shank while he was watching TV.
"I realised I was looking at my phone the whole time," he says. "So I went to the app store to see what they had in the travel category, and there wasn't anything very interesting there.
"This was odd given that hotel booking is the most profitable category of e-commerce, and apps are the future computing platform of the world, I thought."
So his team built the HotelTonight app, convinced that "the big guys" would muscle in and do the same. But they didn't, at least, not for a while. At that point, he says, rivals such as Orbitz, Expedia and Lastminute.com didn't have an app.
"With our app you could book a hotel 50 times faster than with the other guys," he says. "It only takes 10 seconds."
And hotels were happy to offload their unsold rooms at a discount - it was the Lastminute.com business model but in the age of the connected smartphone.
Launched originally as a division of DealBase, Mr Shank quickly realised that HotelTonight had the potential to go it alone and outstrip its parent, so they spun it out as a separate company.
"We've never been profitable," he admits, "but that's been by choice. We wanted to continue expanding our presence around the world."
The app has now been downloaded more than 11 million times and the firm has 15,000 hotel partners in more than 500 cities.
Mr Shank says that turnover has doubled every year, and that the business now employs 140 people. It also recently expanded its service from same-day to seven-day booking.
The big rivals like Booking.com and Hotels.com undoubtedly have bigger marketing budgets, he admits, so HotelTonight relies on making sure its product pleases customers by vetting all the hotels for quality, for example, and trying to make sure it offers the cheapest prices.
"In the history of HotelTonight we've spent less on marketing than our competitors spend in a single day," he says with a degree of pride.
As HotelTonight is still a private company, he wouldn't reveal revenue figures. "But it has been a goal of mine to take a business public," he says. "We're definitely on that trajectory, but we're probably a few years away from that yet."
Money has not been much of a motive, he claims. Instead, watching his company grow has been "unexpectedly fulfilling".
He describes the role of a boss as "setting ambitious but achievable goals", then letting people get on with the job. "You have to step back and trust the team," he concludes.
To think that if he'd stayed in Hollywood he might now be working on Scream 5.
Related Internet Links
The BBC is not responsible for the content of external sites.