Falling oil prices are a free fiscal stimulus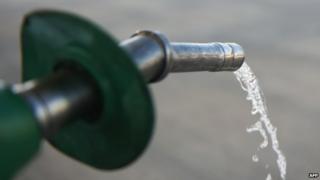 Budgets are in focus in the UK, France and other European countries this week. One unexpected factor that could help is oil.
The drop in oil prices could be a free boost to their economies. It's not entirely costless as there are also taxes on energy to consider. But, for consumers, it should eventually translate into more money in their pockets.
The OECD estimates that a $20 drop in the price of oil adds a chunky 0.4% of GDP growth to developed economies after two years. And oil prices have more than halved since they peaked at nearly $150 (£96) per barrel in 2008.
Now both Brent and West Texas Intermediate have fallen to just above $60. So, that should be a hefty total boost to economies whose growth rates aren't exactly bounding ahead, particularly in continental Europe.
For the UK, whose recovery is somewhat stronger but still faces challenges including weak wage growth, it could help raise disposable incomes.
The Office for National Statistics finds that household spending is growing at the fastest rate since it started collecting such data in 2001. And, look at what they're spending on.
Households are spending more on housing costs, which includes energy and rent, but not mortgages. Housing costs had overtaken transport in 2011 as the largest single item of expenditure, accounting for 14% of the total spend for the average family.
The average household spent £517 per week last year, an increase of £16 from 2012. So spending more on housing costs, while incomes have grown slower than inflation, isn't a great combination.
Reliance on energy
I have written before about how Britain's dependence on imported energy has risen dramatically over the past decade, from 3% of the total to nearly half.
And the dependence of European countries on imported gas, including from Russia, is high. In Europe, gas prices are linked to oil, as they are treated as substitutes.
So as oil prices come down, there should eventually be a pass-through to the prices that households pay for gas, as well as at the pump.
And that's where the boost to the economy would come from. Extra money available to households, but not being provided by governments through tax credits or additional spending that would have to be paid for through more public borrowing. It's a free fiscal stimulus in that sense.
Of course, it depends on prices remaining low, which is what current forecasts are. For governments seeking to balance their books while trying to raise the rate of growth, a free fiscal boost wouldn't hurt.