Takata refuses US regulator demand for airbag recall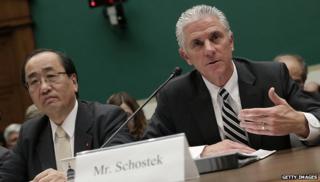 The Japanese airbag manufacturer Takata has refused a request by the US National Highway Traffic Safety Administration (NHTSA) to expand a recall of cars containing its faulty airbags.
The current recall applies only to cars in high-humidity states.
In a letter to the NHTSA, Takata insisted that was sufficient.
The NHTSA can now fine Takata up to $7,000 (£4,460) per day for each unrecalled car on the road.
The airbags - which can explode with shrapnel - have so far been linked to five deaths, and nearly 14 million cars worldwide have been recalled.
Expanding the recall to include all of the US - as opposed to Florida, Hawaii, Puerto Rico, and other areas associated with high humidity - would add an additional eight million cars to the total.
Recall refusal
At a hearing in the House of Representatives in Washington, DC, Takata executives defended their decision not to do a nationwide recall, even as lawmakers asked the manufacturer if it could yet determine exactly what was behind the faulty airbags.
Hiroshi Shimizu, Takata's senior vice president for global quality assurance, testified that Takata's data "doesn't support a change from regional recall to national recall.".
In its letter to the NHTSA, Takata said that the US regulator did not have oversight over Takata, as a car parts supplier.
Rather, the NHTSA only had oversight over the car manufacturers.
Honda - the company most affected by the recalls - said at the hearing that it would voluntarily expand its recall to include all 50 US states.
"We believe our customers have concerns and we want to satisfy our customers," said Rick Schostek, a Honda executive who testified at the hearing.
Details of cars affected can be found on the NHTSA website.