Ryanair raises profit outlook for second time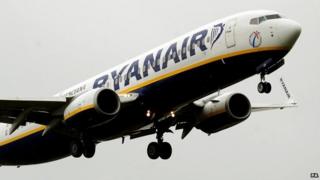 Irish airline Ryanair has raised its full-year profit forecast following a 22% jump in passenger numbers to 6.35 million people in the year to November.
The airline said it now expected profits to be between €810m and €830m (£636m-£652m), partly due to better customer service.
Just last month Ryanair had raised its profit outlook by 20% to a range of €750m-€770m.
The latest profit upgrade sent shares in the airline up 8.5% to €9.46.
Ryanair said improvements in customer service had brought about a stronger than expected performance in the first month of its winter schedule.
The results represent a turnaround for Ryanair. Last year, it was forced to issue two profit warnings as a result of lower passenger numbers and airfares, which chief executive Michael O'Leary blamed on "three or four years of austerity across Europe".
Mr O'Leary also admitted earlier this year that his high profile may have been putting some passengers off flying with the airline.
In response, Ryanair cut baggage check-in fees in an attempt to boost passenger numbers, and also allowed passengers to book seats for the first time in February, in a response to similar move from rival Easyjet.
Ryanair said its load factor, a measures of how effectively it fills seats during the month, also rose by 7% to 88% in November.
The carrier added that its final full-year profit would still be heavily reliant on bookings and yields in its January-March quarter, over which it said it "presently has very little visibility".