ECB 'steps up' plans for more stimulus measures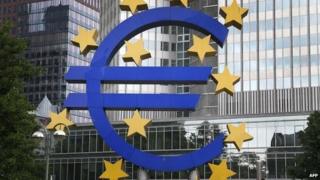 The European Central Bank (ECB) has "stepped up" plans for more stimulus measures aimed at revitalising the eurozone economy, bank president Mario Draghi has said.
His comments came after the ECB held interest rates at 0.05%.
Mr Draghi added the bank would assess the impact of its current stimulus measures early next year.
He also gave his strongest indication yet that the ECB was willing to buy government debt.
ECB staff "have stepped up the technical preparations for further measures, which could, if needed, be implemented in a timely manner," he said.
The bank has so far resisted pressure to follow in the footsteps of central banks in the UK, US and Japan by stimulating the eurozone economy through the purchase of government bonds.
In part this has been because of opposition from Germany, which has argued that asset purchases of this type are outside of the ECB's remit.
However, Mr Draghi said it would be "illegal" for the ECB not to pursue its mandate to control inflation.
Mr Draghi said the bank's Governing Council - the equivalent of the Bank of England's Monetary Policy Committee - remained "unanimous in its commitment to using additional unconventional instruments within its mandate".
He added: "This would imply altering early next year the size, pace and composition of our measures."
Falling inflation and low economic growth have been persistent problems in the eurozone for most of this year.
In September, the bank announced it would buy covered bonds and other assets for two years in an effort to stimulate the eurozone economy.
Covered bonds are those backed by public sector loans or mortgages.
---
Analysis: Andrew Walker, BBC economics correspondent
It certainly sounds as though the European Central Bank is edging towards quantitative easing.
Staff, we were told by the ECB president, have stepped up technical preparation for further "unconventional measures". He also suggested that action could come early next year.
It's worth remembering that the ECB has already started something that has a lot in common with QE. It is buying financial assets based on private sector loans with newly created money.
Where it differs from US, British and Japanese QE is the scale - it's a much smaller programme - and the fact that the assets don't (yet) include government debt.
Most of the great operas came from what is now the eurozone. The ECB seems to be once again drawing breath as it prepares to sing. If it does, it will be after the longest overture there has ever been.
---
Economic growth
Latest figures show the eurozone grew by 0.2% in the third quarter of the year, and the rate of inflation fell back to 0.3% in November from 0.4% the previous month.
The Organisation for Economic Co-operation and Development (OECD) has warned the euro area may be stuck in persistent stagnation.
Mr Draghi admitted inflation was likely to stay low for a prolonged period of time and that lower oil prices were likely to lead the inflation rate lower.
The ECB's own estimate of economic growth was also revised down substantially to 0.8% this year, bringing it in line with an earlier European Commission forecast.
The bank forecast the eurozone economy would grow by 1% in 2015 and 1.5% in 2016.
While insisting that current medium to long term inflation expectations remained stable, Mr Draghi said: "We will not tolerate prolonged deviations from price stability.
"We don't want a tightening of our monetary policy stance due to a medium-term inflation expectations."
Mr Draghi said there had been "a very rich, ample discussion" on what unconventional instruments the bank had available to it within its mandate.
He added that the work of the ECB committees would continue, adding: "We discussed broadly all sorts of measures, we... discussed various options of QE. And more work is needed and... we'll keep you informed."