Education, the skills gap and the bottom line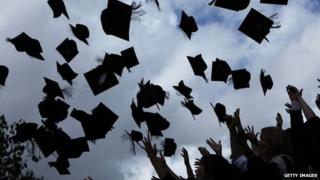 The UK chancellor's scheme announced in his Autumn Statement to offer student loans for postgraduate study of up to £10,000 could have far-reaching consequences.
It would help to equalise opportunity for those who can't afford to pay for a Master's degree, and put the UK more on par with the US, which offers student loans and whose universities compete with the UK's for the best talent.
The reception from higher education institutions has been positive, such as Universities UK which views this as good news.
It's not the only thing that matters in an increasingly mobile world where the best students will go to places which also offer scholarships, something that private American universities provide generously to top candidates.
Also, it may make sense for the British government to charge an interest rate on those loans that is higher than on undergraduate loans, but still below the market rate, since the return to more specialised postgraduate studies will likely accrue to the student more than for an undergraduate degree.
No improvement
Of course, there are positive benefits for society from an educated workforce too. And the debate over who pays for education and how many should be enrolled for degrees was thrashed out when tuition fees were first introduced for universities.
Coming back to specialised education and skills, the view increasingly heard from British businesses is that there is a shortage, particularly in STEM subjects: that is, science, technology, engineering, mathematics.
The Confederation of British Industry (CBI), a UK employers' organisation, found that 40% of their members had difficulty recruiting workers with STEM skills. The same survey found that most employers didn't expect the situation to improve.
It's not just British companies.
I spoke to the executive in charge of worldwide education for Microsoft which says it's challenging to recruit appropriately skilled workers globally.
One of the reasons is that technology has become much more important in the workplace, while education systems have yet to adapt and equip their students appropriately.
Whether it's tech companies like Microsoft or manufacturers, we can see the ways in which technology is changing the manner in which work is done.
A car company can manage production and supply chains through ICT to adjust for demand anywhere in the world, as I found out on a recent visit to a factory in Thailand.
Think critically
So, for companies and countries, the training of students to be ready for work is essential for their bottom line and growth.
And, when faced with the demands of an economy increasingly transformed by technology, the opportunity for students to pursue postgraduate training in specialised technical subjects as well as hone their abilities in maths and science would be help prepare them for what the world of work requires.
I spoke with educators from business schools who said that they regularly worked with industry to ensure that the postgraduate education on offer matched what employers required.
It's not just a question of specialisation, of course. A rigorous education can teach students the ability to think critically and learn skills that can be applied in a number of professions.
Ultimately, a nation's competitiveness and productivity rests on its workers. And education has been called the great enabler - not just for economic but also social and other reasons that go well beyond the scope of this blog.