BP quickens job cuts due to oil price fall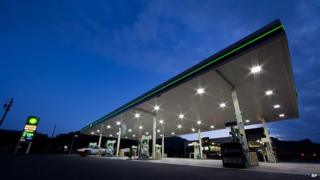 Oil giant BP is accelerating plans to cut hundreds of jobs within its back-office departments - many of them based in the UK and US.
The company, which has been downsizing since the oil spill in the Gulf of Mexico in 2010, said it had long planned the cuts, but is speeding up the process due to falling oil prices.
Crude prices have fallen by almost 40% this year, reducing oil firms' margins.
BP employs almost 84,000 people worldwide, and some 15,000 in the UK.
In the US, the firm employs 20,000 people, many of whom are based in Texas.
"The fall in oil prices has added to the importance of making the organisation more efficient," a BP spokesman told the BBC, "and the right size for the smaller portfolio we now have".
Earlier on Sunday, The Sunday Times newspaper quoted BP's finance director, Brian Gilvary, as saying "headcounts are starting to come down across all our activities".
He added that the cuts would apply to "essentially the layers above operations".
In the UK, BP has offices in London, Milton Keynes, Subury on Thames and Aberdeen, among other places.
In October, BP reported its third quarter replacement cost profits - which strip out volatility in oil prices - were $2.4bn (£1.5bn), down from $3.2bn in the same period last year.
The company, which says it is a third smaller than it was in 2010, is also still settling claims related to the Deepwater Horizon spill in the Gulf of Mexico.
As of September, compensation costs had reached $20bn, BP said.
The company will outline details of the planned job cuts on Wednesday.