Asos sales slow in 'challenging' trade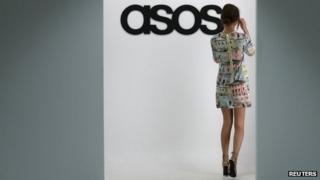 Online fashion retailer Asos has reported a rise in sales in what it described as a "challenging" environment.
Total sales rose 8% in the three months to the end of November to £246m.
Sales in the UK rose 24% to £104m compared with the same quarter a year earlier, but international sales fell 2% to £141m.
The company said it expects full-year profit "to be in line with expectations".
In September it indicated that would be "at a similar level" to a year earlier.
International sales remain a source of concern for the company, having fallen in what should be the retailer's busiest time of year.
"September and October were challenging as we completed the automation programme in Barnsley in time for peak," said Asos chief executive Nick Robertson.
"Our sales have since gathered momentum and we had our biggest ever trading week over cyber weekend in November," he added.
The online retailer has issued three profit warnings this year, with a combination of the strong pound, a big investment programme aimed at increasing its warehouse space and a fire at its Barnsley warehouse all hurting its performance.
Asos said the fire at its Barnsley warehouse had resulted in lost sales of between £25m and £30m.
Mr Robertson, said during the quarter, the retailer received £6.3m from its insurance policy for the fire in Barnsley, which it said it had used to speed up investment in its international operations. The retailer is also investing heavily in technology upgrades.