Uber taxi app suspended in Spain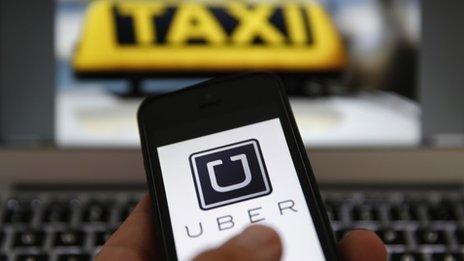 A judge has ordered taxi booking service Uber to stop operating in Spain, after a series of protests by taxi associations.
In his ruling on the temporary ban, the judge said Uber drivers didn't have official authorisation and accused the service of "unfair competition".
The move follows a complaint by the Madrid Taxi Association.
An Uber spokesman said the company was "still operating" in Spain.
The Madrid taxi association has to raise a €10,000 down-payment before the ruling can come into effect.
The BBC understands that Uber first heard of the hearing through media reports.
The technology firm described the Spanish ruling - which could suspend the UberPop ride-sharing service across the country - as "highly unusual".
"UberPop is our ride-sharing solution and is about sharing the costs of vehicle ownership and helping people give up their cars," an Uber spokesman said, "and we will continue to run the service".
"This ruling is inconsistent with broad political acknowledgement in Spain and across the European Union on the benefits of sharing economy services.
"Uber will continue to comply with Spanish law and is currently assessing its legal options under this sudden and unusual proceeding," the spokesman added.
The Spanish order comes just a day after Uber was blacklisted in the Indian capital Delhi.
Drivers "lack the administrative authorisation to carry out the job, and the activity they carry out constitutes unfair competition," the Spanish court services said in a statement after the ruling.
The company does not own cars or employ drivers, but connects customers and vehicles through its app, bringing what it says is much needed competition to the taxi industry.
It is the latest blow for the San-Francisco based firm, which has faced strong opposition globally from some governments and established taxi firms, including London's "black cab" drivers.
On Monday, Uber was banned by officials in Delhi after a driver allegedly raped a female passenger.
On the same day, judges in The Netherlands banned its UberPop ride-sharing service, which was launched as a pilot project in Amsterdam between July and September and subsequently extended to The Hague and Rotterdam.
"Drivers who transport people for payment without a licence are breaking the law," said the decision from the Hague-based Trade and Industry Appeals Tribunal.
In a statement on Monday, Uber said it would "continue to offer UberPop", despite the threat of a fine of up to €100,000 for itself, and one of up to €40,000 for drivers.
Uber has expanded rapidly since its 2009 launch and now operates in more than 250 cities across 50 countries.
Earlier this month Uber was valued at $40bn (£25.5bn), following its latest round of fund raising.
Related Internet Links
The BBC is not responsible for the content of external sites.