Abercrombie & Fitch boss resigns as retailer struggles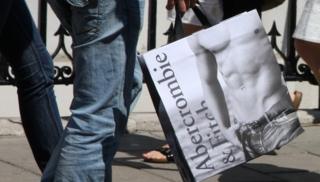 Mike Jeffries, the controversial chief executive of US retailer Abercrombie & Fitch, has resigned.
The once-popular teen clothing chain has struggled in recent years, as young people's shopping habits have changed.
Shares in the firm rose over 8%, despite the fact that no successor has been named.
"It has been an honour to lead this extraordinarily talented group of people," said Mr Jeffries, who is 70, in a statement.
Abercrombie's sales have slipped as teenagers have turned away from its sporty, preppy style towards "fast-fashion" chains like Forever 21 and H&M.
Shares in the company have declined by over 22% in the past year as the company has missed earnings forecasts and sales targets.
Apology for comments
Mr Jeffries, who is widely credited with transforming the brand in the 1990s, has also come under fire for controversial statements relating to Abercrombie's brand.
He has had to apologise for comments in which he indicated the retailer's clothes should only be worn by thin and attractive people.
Abercrombie has also been sued by several former employees for its strict uniform policy, which details what employees can wear in the store.
The US Supreme Court recently heard a case in which a former employee claimed she was wrongly denied a position at store in Tulsa, Oklahoma because she wore a headscarf, which was deemed to be against the company's "look policy".