Airline fares set to fall in 2015, Iata predicts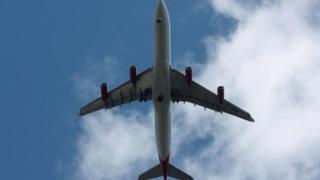 Average return fares for air passengers will be 5.1% lower next year compared with 2014, the International Air Transport Association (Iata) has said.
Airlines are expected to trim fares thanks to higher profits as a result of cheaper fuel and faster global growth.
Iata now expects the global airline industry to report a record $25bn (£15.9bn) profit next year.
The body also increased its profit forecast for 2014 to $19.9bn, up from its earlier prediction of $18bn.
Upturn strengthening
Iata's 2015 forecast equates to an average 3.2% profit margin for airlines.
"The industry outlook is improving. The global economy continues to recover and the fall in oil prices should strengthen the upturn next year," said Iata director general Tony Tyler.
The last time the industry reported a profit margin close to Iata's prediction for next year was in 2010, when it reached 3.1%.
However, Mr Tyler said the 3.2% margin did not leave much room for deterioration before profits were hit, pointing out that political unrest, conflicts and some weak regional economies all posed a risk.
Cheaper fuel
Iata's forecast also differed dramatically according to region, with North American airlines expected to see profit margins of 6% next year, by far the strongest performance globally.
In contrast, European airlines are only expected to see profit margins of 1.8%, which Iata blamed on "high regulatory costs, infrastructure inefficiency and onerous taxation".
The recent fall in the oil price is set to provide a welcome boost to airline's profits through cheaper fuel prices.
Brent crude oil has fallen more than 40% since June, and on Wednesday slipped below $66 a barrel, just above a five-year low.
Iata said it expected airlines to spend $192bn on fuel next year, down from an expected $204bn this year.
However, Mr Tyler told the BBC that the airlines were unlikely to be seeing the benefits yet.
"Airlines fuel prices are based on previous months oil price so they're probably not seeing results from the falling oil price just yet. It's also varied because some [airlines] are thoroughly hedged [against the oil price] and some won't be."
Iata also said it expected global economic growth to be 3.2% next year, up from 2.6% in 2014 - marking the first time it has exceeded 3% since 2010.
The industry body represents 250 airlines, accounting for 84% of global air traffic.