Banks fined by US regulators over Toys R Us research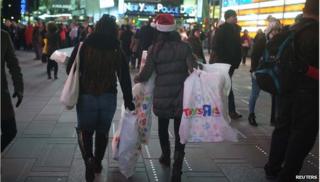 US regulators have fined 10 Wall Street banks for promising positive research to Toys R Us in exchange for winning its business.
The US Financial Industry Regulatory Authority (FINRA) alleges the banks offered a favourable rating to the US toy retailer in return for being employed on its 2010 stock offering.
The banks include Citigroup, Goldman Sachs, JP Morgan, Credit Suisse and Barclays.
They were fined a total of $43.5m.
"FINRA's research analyst conflict of interest rules make clear that firms may not use research analysts or the promise of offering favorable research to win investment banking business," said Susan Axelrod in a statement.
Yet "each of these firms used their analyst to solicit investment banking business from Toys R Us and offered favorable research," she continued.
Toys R Us later withdrew its public stock offering in 2013 amid declining sales.
Business as usual
Nearly 10 years ago, in the wake of the dot com crash, FINRA instituted rules meant to safeguard research analysts' opinions from the larger business of their respective banks.
This was in response to several high profile scandals in which analysts were seen giving favourable ratings to technology companies in the lead up to their public stock market offerings, in order to win business from those firms.
However, the documents accompanying FINRA's decision indicate that similar behaviour was still occurring on Wall Street in 2010.
"I would crawl on broken glass dragging my exposed junk to get this deal," wrote one Needham & Company analyst in response to an email from a colleague about winning Toys 'R Us's business, according to documents.
The banks which were fined are:
Barclays - $5m
Citigroup - $5m
Credit Suisse - $5m
Goldman Sachs - $5m
JP Morgan - $5m
Deutsche Bank - $4m
Merrill Lynch - $4m
Morgan Stanley - $4m
Wells Fargo - $4m
Needham & Company - $2.5m
"We are pleased to have resolved and put this matter behind us," a Citigroup spokeswoman told Reuters.