UK construction output fell in October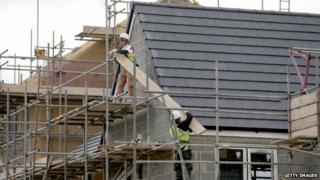 Output in the UK construction industry suffered a sharp fall in October, official figures have shown.
The Office for National Statistics (ONS) said output dropped by 2.2% in October from the month before.
However, there was a sharp upwards revision to construction output growth for the third quarter of the year, which doubled to 1.6%.
The ONS said this could mean that overall economic growth in the quarter could be revised up to 0.8% from 0.7%.
It said this assumed growth in manufacturing and services remained unchanged in the quarter.
The ONS publishes its third and final estimate of GDP for the third quarter on 23 December.
Data warning
As well as falling in October, construction output grew by just 0.7% when compared with a year earlier, the slowest annual growth rate since May 2013.
The ONS said there were reductions in output across the construction industry, with only public new work - excluding infrastructure - showing a slight increase.
Last week, the closely-watched Markit Purchasing Managers' Index for the construction sector showed activity expanded at the slowest pace in more than a year in November.
Data on Tuesday showed manufacturing output fell unexpectedly in October after a strong September, but economists said the country's economic recovery still looked set to slow only slightly at the end of 2014.
On Thursday, the UK Statistics Authority said the monthly construction output data had fallen below required standards for it to be considered a "national statistic".
It said this was because the Department for Business, Innovation and Skills (DBIS) had failed to meet a request to improve data standards on costs and prices.
The ONS said it was working with DBIS to introduce a new methodology by March.