South Korea's craft beer start-ups battle big brewers
By Kurt Achin
Seoul, South Korea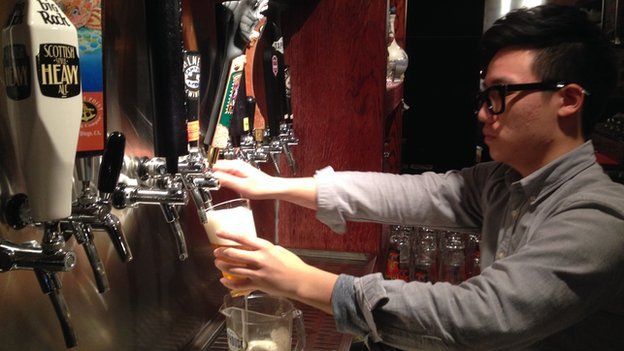 It's Friday night in Seoul's hip Kyungridan district and young drinkers are packing themselves into a labyrinth of pubs specialising in craft beer hoping to enjoy the robust flavours of stouts, ales, lagers, and IPAs.
Considering that all of South Korea was, at least in beer terms, something of a barren landscape less than a decade ago it's a remarkable scene.
Then the market was over-run with offerings from South Korea's two massive industrial brewers; Hite-Jinro and Oriental Brewers.
The rise of craft brewing in Seoul is something of a David and Goliath story, with a passionate handful of craft entrepreneurs overturning decades of beer boredom by tapping into pent up consumer demand and thawing South Korean public policy on how beer is regulated.
Dan Vroon and Chul Park met each other five years ago, when they were both selling craft beer for boat tours and other events.
"Chul initially brought in the first craft beer into Korea from my hometown, Edmonton, Alberta, Canada," Dan Vroon recalls. "That's what sort of inspired us to create more and better beers."
Dan Vroon co-owns Craftworks which opened in 2010 and has three "tap houses" operating in the country.
His own brand of beer is brewed at Chul Park's Ka-Brew contract brewery which makes different recipes for several of the new craft beer brands.
"We started with a single location and were moving roughly 50 kegs (5,147 pints) a week, " Dan Vroon tells the BBC.
"We are now probably doing 300 kegs a week, and building a state of the art brewery, the likes of which has not been seen in Asia yet," he says.
As recently as three years ago, South Korea prohibited beer sales by any player incapable of putting out at least a million litres a year.
However, requirements for entering the beer making and distribution market have been lowered dramatically since.
Daniel Tudor, former Seoul Correspondent for The Economist magazine and co-owner of Kyungridan pub "The Booth," permits himself a small amount of credit for South Korea's change of tack on beer legislation.
His 2010 article "Fiery food, boring beer" started what he describes as a "media storm" in favour of loosening brewing controls.
Rising affluence and global awareness among Koreans were also important factors.
"I think there are more Koreans who have spent a significant length of time abroad, so they [are]expecting something better now." he says.
Craft beer pubs do not survive by good brewing alone, says Troy Zitzelsberger, co-founder of Reilly's Taphouse in Seoul.
He says success is also a process of teaching customers. "I oversee a homebrew club I started here a couple of years ago, called Seoul Brew Club and as of today we have 1,512 members," he says.
As one of only two cicerones (internationally certified brewmasters) operating in South Korea, Zitzelsberger says he personally oversees the contract brewing of two of the 30 beers he offers on tap.
Fruity "Jeju IPA" hits lighter notes of sour citrus, while "Seoul Cream Stout" appeals to palates that appreciate darker hints of coffee and black bread.
Even though the beers are taking brewing back to its pre-industrial routes the way the trend has grown is entirely modern.
"Blogging is key here," he says. "You just get some good blogging with good products and talk to the right people and anything can happen."
Even with the success of expat craft brewers in Korea, the market remains miniscule, less than 1% of the overall beer market, including imports.
Domestic brewers, aware of the upside potential, are increasingly playing to craft sensibilities, rolling out brands like "Queen's Ale" and the Germanic-sounding "Kloud".
Top craft brewers in Seoul predict the market is likely to follow a similar famine-to-glut pattern as upscale coffee; these days, it's nearly impossible to walk 100 metres without brushing by a cafe franchise.
At that point, brewers agree, the novelty of the craft beer genre will subside and consumers will focus exclusively on the quality of the product.
"A wise man once said, an honest beer makes its own friends," says Dan Vroon of Craftworks. "We have been getting a lot of friends lately."