Zero-hours workers 'earn less' than permanent staff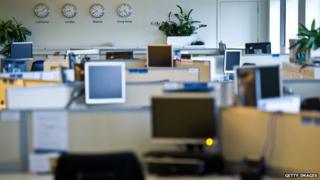 Workers on zero-hours contracts earn nearly £300 a week less than permanent employees, according to a new report.
Average weekly earnings for zero-hour workers are £188, compared with £479 for permanent staff, found the report by union organisation the TUC.
The TUC based its report on unpublished data from the Office for National Statistics (ONS).
The ONS has estimated there are 1.4 million contracts with no guaranteed minimum hours.
The contracts mean employees work only when they are needed by employers, often at short notice. Their pay depends on how often they work.
The TUC said its research also found that zero-hours workers were five times more likely to not qualify for statutory sick pay than permanent workers due to their lower level of pay.
"If the UK doesn't create more well paid jobs with regular hours we will continue to have a two-tier workforce where many people are stuck in working poverty," said TUC General Secretary Frances O'Grady.
The TUC has published the report to coincide with the start of its Decent Job Weeks campaign, which it says aims to highlight the millions of people in the UK "trapped in low-paid and insecure work".