Amazon workers strike in Germany as Christmas nears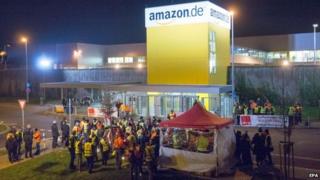 Strikes have begun at Amazon distribution depots in Germany in a dispute over pay and conditions.
Five of the online retailer's nine centres have reportedly been affected in what will be a three-day walk-out.
The strikes come in the run-up to Christmas, but Amazon said delivery schedules remained the same and that orders would be met.
The union Verdi wants Amazon staff to be part of the retail industry's collective bargaining structure.
Amazon designates the staff as logistics workers, but says they receive above-average pay for this sector.
The company employs about 9,000 staff in Germany.
Despite the disruption, Amazon said customers could order up until midnight on 21 December to get gifts in time for Christmas, or even on 23 and 24 December if they pay for "express" delivery. "We deliver reliably," an Amazon spokeswoman said.
Verdi has organised a number of strikes at Amazon since May 2013. In the past Amazon has drawn on other depots throughout Europe to help meet delivery schedules.