Nigerian oil workers go on strike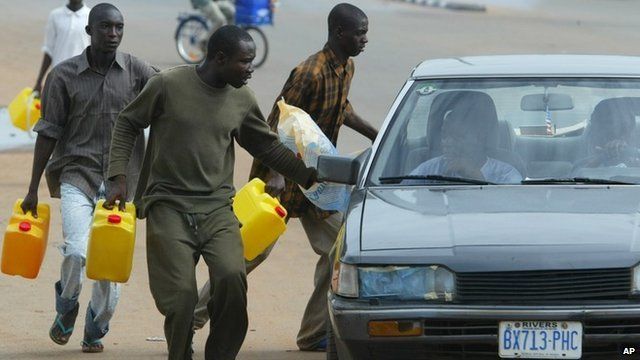 Nigeria's two main oil workers' unions have begun a nationwide strike, threatening to hurt the output of Africa's largest oil producer.
BBC reporters say long queues have formed at many petrol stations.
The unions, Pengassan and Nupeng, said the strike would continue until the government addressed its concerns.
These include the adoption of the delayed Petroleum Industry Bill, aimed at overhauling the sector and maintenance work on oil refineries.
The unions frequently go on strike or threaten to strike.
This time, the two unions were initially demanding the reinstatement of representatives who had been dismissed by oil companies, but now their list of complaints has grown.
They are now protesting that the government has allowed Nigeria's oil refineries to fall into disrepair and that the poor state of the country's roads is hindering the transport of oil.
They are also asking for the price of petrol to be reduced and oil theft to be stopped.
"We've commenced the strike. It will affect oil production, since all operations are on strike," Pengassan chief Babatunde Oke told Reuters.
However, an oil executive said the strike was not expected to affect output, because it would require the co-operation of large numbers of workers at production sites who would be unwilling to go that far.
"It's very difficult to shut them down, and once they do, it would take them a week to get them back up. They never do it. That's the last thing anyone wants," an oil executive told Reuters.
The BBC's Will Ross in Lagos said most of the unions' demands seemed "unrealistic, especially with an election looming".
"The refineries are not suddenly going to be fixed because of this strike. Some oil industry watchers suggest the unions are simply trying to force the government to pay them off and get a hefty Christmas present," he added.
A strike in September had little impact on oil production.
Many Nigerians, whether Christian or Muslim, travel home over the Christmas and New Year holidays and so they are stocking up on fuel now, in case of shortages in the next couple of weeks, analysts say.
Related Internet Links
The BBC is not responsible for the content of external sites.