Russia makes drastic rate rise to 17% to stem rouble decline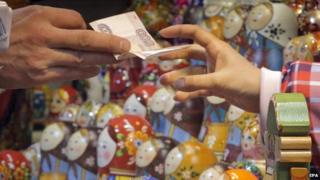 Russia's central bank made a drastic interest rate move overnight, raising its key rate from 10.5% to 17%.
The bank said the move was to try to ease the rouble's recent fall in value.
The rouble has lost almost 50% against the US dollar this year as falling oil prices and Western sanctions continue to weigh on the country's economy.
Before the move, the dollar bought 67 roubles. The rate rise moved it up to 58 against the dollar, although it has since slipped back to 62.
Russia only last week raised rates by 1%, a move that had little impact. On Monday the rouble fell to a new low, prompted by fears the US was considering a fresh set of sanctions against the country for its support for separatists in Ukraine.
The 60 mark is considered a "psychological barrier" for Russia's national currency, says the BBC's Moscow correspondent, Steve Rosenberg.
Most analysts thought the move would work to curb inflation, which is heading for double figures.
But it could cause problems in other areas. Neil Shearing, chief emerging markets economist for Capital Economics, said the rate rise "could prove to be a turning point in the 2014 rouble crisis".
"The price, however, will be a further tightening of credit conditions for households and businesses and a deeper downturn in the real economy in 2015," he said.
Russia's central bank has tried unsuccessfully to stabilise the currency, buying roubles in the markets.
It has spent more than $70bn (£44.7bn) supporting the rouble since the start of the year.
Analysis: Steve Rosenberg, BBC News, Moscow
When Russia's Central Bank raised its base rate by one percentage point last week, it was like a doctor giving a seriously ill patient a headache tablet.
Now, it seems, the bank has reached for the defibrillator.
The 6.5 percentage-point rise of the key rate to 17% is a desperate measure. But then the situation is looking increasingly desperate.
On Monday, the rouble suffered its sharpest fall in more than 15 years, losing about 10% of its value against the dollar. Moscow's RTS share index plummeted 10%.
On the streets of Moscow yesterday, there was no sign of panic, there were no queues outside banks. But the Central Bank knows it needs to bolster the national currency to prevent panic from setting in. Hence the large rise in the key interest rate.
But there is a risk. High interest rates slow economic growth, and that's not good with Russia on the verge of recession.
"This decision is aimed at limiting substantially increased rouble depreciation risks and inflation risks," the central bank said in a statement. The decision is effective from Tuesday.
The leap in rate follows an increase to the prior rate of 10.5% on 11 December and an increase of 1.5% to 9.5% in October.
Last week, the World Bank warned that Russia's economy would shrink by at least 0.7% in 2015 if oil prices did not recover. Capital Economics' latest prediction is for a contraction of 2%.
Raising interest rates has its own risks, as more expensive borrowing can itself slow growth. But it may also stem the tide of money leaving the country.
On Monday, oil prices slumped to lows not seen for five-and-a-half years. US benchmark crude West Texas Intermediate traded at $55.91 a barrel, while North Sea Brent crude traded near $60 a barrel. Both markets have fallen by almost half since June.