Dixons Carphone sees 'barnstorming' first half in UK and Ireland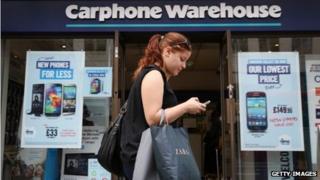 Newly merged Dixons Carphone says it has seen a "barnstorming performance" in the UK and Ireland in its first set of half-year results.
In the six months to November, the electronics retailer said underlying profit before tax rose 30% to £78m.
However, after allowing for one-off costs, including writing down the value of assets in the Netherlands and Germany, it posted a £20m loss.
The firm was created by the merger of Dixons Retail and Carphone Warehouse.
The company, which owns the brands PC World and Currys, as well as Carphone Warehouse, said group sales had risen 5%.
Shares rose more than 3% on Wednesday, closing at 439.70p.
In the UK it saw strong sales of white goods and TVs, with a particularly good performance in high-end TVs, helped by a number of initiatives including free warranties.
In computing, Dixons Carphone said the laptop market appeared "to be stabilising, whilst tablets were down year-on-year due to limited product innovation".
Chief executive Sebastian James said: "We have seen a barnstorming performance from our UK and Ireland division.
"This has been driven by continued improvements in price and service, competitive changes, technology launches and some recovery in the economy," he continued.
"Life has been tougher for our smaller European phone businesses who are strategically less able to be robust in the face of market changes and we are in the midst of restructuring and reviewing these operations."
Dixons Carphone said it was closing 50 stores in the Netherlands, and its retail and wholesale operations in Germany.
In Greece, it said it hoped to return to profitability "in the short-term" after seeing strong sales growth - particularly in large screen TVs.
Dixons Carphone employs more than 40,000 people in 14 countries.
Keith Bowman, Equity Analyst at Hargreaves Lansdown Stockbrokers commented:
"The newly merged company has made a promising start," said Keith Bowman, analyst at Hargreaves Lansdown Stockbrokers.
"Targeted cost savings are expected to materialise a year ahead of schedule, the fall of Phones 4U has clearly played its part, while free warranties on products such as high-end TVs has further contributed."