Why some people choose to work on Christmas Day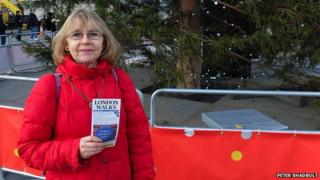 While most of us will be relaxing on Christmas Day, or at least eating and drinking too much, spare a thought for those people who will still be going to work.
For while we'll be at home struggling to assemble a child's present, or wondering how early we can open the fizz, some workers will be clocking in on 25 December, out of either necessity or choice.
From a minicab driver to a repair man, a restaurant manager, a pub landlady, and a tour guide, five people who work on Christmas Day in London tell us about their experiences.
Dickens's footsteps
For walking tour guide Mary Tucker, 25 December is one of the busiest days of the year.
Mrs Tucker, who together with her husband David runs the small firm London Walks, will be leading no fewer than five two-hour Charles Dickens Christmas Day Walks.
Starting from Trafalgar Square and aiming to follow in the festive footsteps of the famous Victorian author, the walk will wind its way through the Covent Garden area.
Between 30 and 40 people are expected to join each time, paying £9 a head.
Mrs Tucker says the tour has a special resonance on Christmas Day, due, of course, to Dickens's famous novel A Christmas Carol.
"Dickens almost invented Christmas as we know it today," says Mrs Tucker. "It's fun and people are appreciative. It's very appropriate, too, because of Dickens's connection to Christmas, and also because he was a great walker as well."
She says that London Walks decided to start organising walks on Christmas Day several years ago, and found they were more popular than they'd anticipated.
"For my family it's not difficult because my husband's one of the guides too," she adds. "When we have Christmas at my mum's in the evening, we really feel we've earned it."
Father Christmas
The Min Jiang restaurant on the top floor of the Royal Garden Hotel in Kensington is one of just a handful of Chinese restaurants open in London on Christmas Day.
Wei Chun Lee, its assistant manager, says that many staff are happy to work on the day.
"Those that work on Christmas Eve don't have to work New Year's Eve - we find that's the fairest way of working it," he says. "The single people that like to party pick up Christmas Day, and the staff with families do New Year's Eve."
The restaurant charges £90 a head for its Cantonese-themed Christmas Day menu, and a member of staff dresses up as Father Christmas - or as he is called in Cantonese, Sing Daan Lou Yan, which translates as Christmas Old Person.
Mr Lee adds: "We have 18 tables in the restaurant and they're fully booked every Christmas - half of them are local people and the other half are normally tourists.
"We have some families that come here for Christmas dinner every year."
Different date
Uber taxi driver Barakat Hagos, 34, is more than happy to work on 25 December, because it isn't Christmas Day for him.
This is because Mr Hagos, an Eritrean, is a member of the Ethiopian Orthodox Church, which celebrates Christmas Day on 7 January.
So with no buses or trains running in London on 25 December, Mr Hagos is relishing a busy day, as thousands of Londoners order a taxi to visit relatives.
"There'll be a lot of people celebrating, and I expect they'll need to move around," he says.
"London's streets might seem dead on Christmas Day, but people still need transport. I'm hoping to save good money.
"Christmas in our country is quite different. We must go to church on the day, so it's not like we can go drinking."
Seasonal rescue
Plumber and general repair man John Bailey is also looking forward to working on Christmas Day - for the 15th year in a row.
Mr Bailey, 47, who works via the tradesmen's website Handy.com, charges £100 for the first hour of the callout.
In addition to the money, he says he likes rescuing people's Christmas Days.
"Working on Christmas Day is great for your ego - we shouldn't have one, I know - but it's great when you have fixed something and there's big smiles all round," he says.
"It makes you very happy, and it puts you into the festive spirit."
Months of planning
Rebecca Davidson, manager at the Spread Eagle pub in Camden, has worked Christmas Day for the past five years.
"You kind of have to in this industry," says the 32-year-old.
A total of 43 people have booked for the pub's £64 Christmas lunch, planning for which began six months ago, when they first started taking bookings.
Ms Davidson also expects to see a number of drop-in drinkers.
"We open at 12pm and we're closed by 5pm... which gives the staff the rest of their Christmas Day to themselves," she says.