No big bang for Lloyds share sale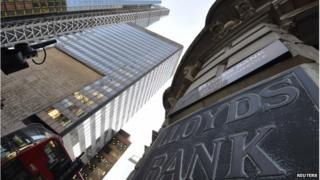 The UK government has decided to go for a "bit-by-bit" strategy for selling off the rest of its stake in Lloyds Bank.
Rather than sell its 25% stake in one go, it will sell off small parts, reducing its stake to 20% over the next six months.
That could mean the government holding on to Lloyds' shares well into next year and the year after.
It is all a far cry from the government's original plans for Lloyds - an all-singing mass share sale with a retail offer to individual investors.
The Treasury even considered a "tell Sid" type campaign, echoing the 1980s privatisation of British Gas.
That may have been attractive politically, but has proved impossible practically, as Lloyds and the Royal Bank of Scotland (still 80% owned by the government) have struggled with misconduct fines, asset sell-offs and a regulatory crackdown.
This new option might be described as the "Citi route".
The US government drip fed the sale of the US bank back to the market, following the financial crisis bailout, which cost US taxpayers billions of dollars. That was seen as a better route than attempting to sell the whole stake in one go.
The US government completed the sale of its final 7% stake in Citi in 2010, exiting the bank at a profit to the American tax payer.
How George Osborne would love to tell a similar story about Lloyds.