Federal Reserve delays parts of Volcker rule until 2017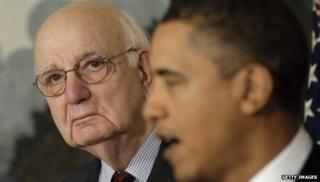 The US Federal Reserve has given Wall Street banks even more time to comply with parts of the Volcker Rule, a key provision of the 2010 Dodd-Frank financial reform bill.
The rule prevents federally-insured banks from using their own money when investing in certain risky assets.
The Fed had already announced banks would have until 2017 to deal with one type of trading product.
It will now grant an extension to other types of funds.
Initially, the Fed had said banks would have until 21 July 2017 to stop trading in collateralised loan obligations, which essentially move the risk of investments in loans off their balance sheet.
The new extension applies to other types of "legacy covered funds", according to a release on the Fed's website, which include "having certain relationships with a hedge fund or private equity fund".
The Volcker rule is named after former Federal Reserve chair Paul Volcker and it limits the ownership stake banks can have in risky funds to a maximum of 3%.
Part of the rule, which bans proprietary trading, is still scheduled to go into effect on 1 July 2015.
This is the second big victory for banks, who have spent nearly four years arguing that the regulations stipulated in the 1,600-page Dodd-Frank bill are too onerous.
Last week, a coalition of big banks, led by Citigroup, succeeding in convincing Congress to repeal a provision that required banks to put their riskier investments into separate holding companies that would not be insured by the US government.