China revises up size of its economy in 2013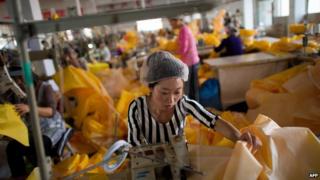 China has revised up the size of its economy in 2013 by 3.4%, which works out to be about the size of Malaysia's economic output.
A nationwide economic census, conducted every five years, revealed that its gross domestic product (GDP) was 58.8 trillion yuan ($9.5tn; £6tn) last year.
The revised data was compiled by surveying 70 million businesses across the country over three months.
The new figures are not expected to affect China's 2014 growth rate.
The Chinese government had set a target of 7.5% growth this year but it is widely expected to miss that. The figures are due out next month.
The world's second-largest economy has been experiencing a slowdown in its manufacturing sector, cooling exports and problems in its property sector.
Julian Evans-Pritchard, China economist at Capital Economics said the GDP revision provides "some positive news on rebalancing".
"The relatively small upwards adjustment, compared with previous censuses revisions, won't make a huge difference to how the economy is viewed or to key metrics, such as China's debt to GDP ratio," he wrote in a research note.
"The breakdown of the revision shows that the lion's share of the increase came from the service sector. Its share of GDP increased from 46.1% to 46.9% as a result of the revision. The contribution from industry fell from 43.9% to 43.7%."
He adds that China's change in methodology could also lead to further increases in reported GDP by between 3% to 5%.
"Today's revision is not the end of the story," he said. "The NBS [National Bureau of Statistics] has also been adjusting the national accounts data to bring them into line with international best practice. These changes now seem likely to be introduced early next year."
China's last two censuses took place in 2004, where GDP was boosted by 16.8%, and 2008, where it gained 4.4%.