Power firms to get £1bn for plants to stay open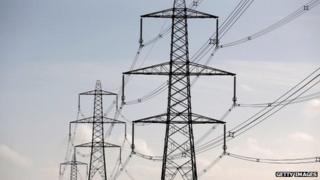 Power generation firms are to receive close to £1bn to ensure their plants stay open and prevent blackouts.
The payments will add £11 to an average household electricity bill, according to the Department of Energy and Climate Change.
The government has described the outcome as good news for consumers, which guaranteed security of supply.
But critics of the new plan say that most of the payments will go to plants that would have remained open anyway.
Around 50 firms took part in an auction this week to secure the capacity payments. In return the companies guarantee to keep their plants available during periods of peak demand and to back up intermittent wind generation.
More than 49GW of capacity was secured for delivery in 2018-19 at a price of £19.40 per KW.
That was below some estimates and led to falls in the shares of some energy firms.
'Positive impact'
The Secretary of State for Energy and Climate Change, Ed Davey, described the result as "fantastic news for bill-payers and businesses".
"We are guaranteeing security at the lowest cost for consumers", he said. "We've done this by ensuring that we get the best out of our existing power stations and unlocking new investment in flexible plant".
Critics of the scheme argue that it will keep older polluting coal plants on the system for longer which could hold back investment in new, cleaner technologies.
Greenpeace said that six coal plants, which it described as amongst the most polluting in Europe, would receive payments running to hundreds of millions of pounds.
The French energy giant EDF confirmed that vast majority of its nuclear and coal plants had received contracts.
In a statement it said that it would now make the required investment to keep its stations at Cottam and West Burton in Nottinghamshire operating until at least 2021.
The company's nuclear fleet was expected to remain in operation anyway.
"Giving a cash bonus to already profitable power stations just to keep doing what they are already doing won't make Britain more energy secure in the long term. For this to happen we need investments in a modern, smart, flexible energy infrastructure," said Greenpeace UK energy campaigner Lawrence Carter.
Winners and losers
The government wants the capacity market to incentivise the building of new efficient power stations. But just one new gas plant, the planned Trafford Power Station, received a contract. The majority of new build projects exited the auction at earlier stages.
Power plants run by Centrica, SSE, RWE and E.On will also receive payments. Shares in Centrica ended the day up 0.5%. But shares in DRAX and SSE closed down more than 1% amid concerns that the low auction price could hit earnings.
Matt Osborne, energy risk manager at the consultancy Inenco said the auction should have "a positive impact on future market prices".
"The majority of capacity has gone to existing plants, which is undoubtedly a cheaper and quicker short term solution to securing supply, but we still need to encourage investment in new plant to help meet the UK's future energy needs."
But advocates from the emerging industry of demand side response (DSR), which involves customers reducing power demand at peak times, voiced disappointment that it had secured just 0.4% of the available capacity.
Professor Catherine Mitchell, Professor of energy policy at the University of Exeter, said the annual auction had to be "completely rethought". She described the auction outcome as "wasteful, thoughtless, parochial and supporting the status quo."
In total, contracts worth up to £1.7bn will be awarded as part of this auction as some of the contracts will last for several years.