Russia's ex-finance boss in crisis warning but rouble rallies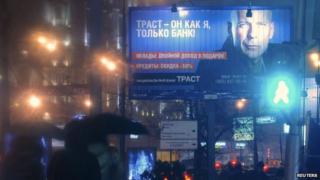 Russia's former finance minister has warned the country is entering a "full blown economic crisis" and will enter recession next year.
"We are entering or have already entered a full-blown economic crisis, and we're going to feel it to the full next year,'' said Alexei Kudrin.
His warning came as Russia's central bank lent Trust Bank 30bn roubles (£339m) to stop it going bankrupt.
It marks Russia's first bank bailout since the rouble's sharp collapse.
The Russian currency has lost more than 45% of its value against the dollar since the start of the year, with falling oil prices and Western sanctions both weighing on the country.
However, on Monday, the rouble increased 8% against the dollar, meaning it takes 54 roubles to buy a single dollar compared with 63 just a week ago.
Deputy prime minister Igor Shuvalov said he expected the rouble to rally further, and indicated the government would not intervene, saying it "opposes'' currency controls as a way to tackle the rouble crisis, and saw "more harm in them'' than potential advantages.
'Serious challenge'
Russia's central bank has already tried unsuccessfully to stabilise the currency, buying roubles in the markets and raising its main lending rate from 10.5% to 17%.
But those efforts have been overwhelmed by the fall in the price of crude oil - one of the country's main exports - and by concerns that international sanctions over Ukraine might be stepped up.
On Monday, Mr Kudrin said that even if the price of oil, currently trading at around $60 a barrel, rose to $80 a barrel the Russian economy would still contract by at least 2%. If oil remained at around its current level he said the economy would shrink by 4%.
"This is a serious challenge to the economy," he said.
He calculated that low oil prices accounted for as little as a quarter of the rouble's decline, with western sanctions against Russia accounting for 40%.
The Russian government warned earlier this month that the country would fall into recession next year as western sanctions and falling oil prices began to bite.
Its economic development ministry estimated the economy would contract by 0.8% next year, compared to its previous estimate of 1.2% growth.