Alstom to pay $772m fine to settle bribery charges in US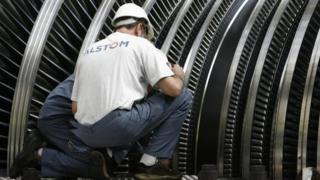 Alstom has agreed to pay $772m (£494m) in criminal penalties to settle bribery related charges with the US Department of Justice.
The DOJ alleges the French engineering giant bribed government officials to win business in countries such as Indonesia and Egypt.
It called the scheme "astounding in its breadth, its brazenness and its worldwide consequences".
Alstom said in a statement that "we deeply regret" what went on.
It is the largest ever US criminal fine for violations of foreign bribery laws.
The DOJ said Alstom paid more than $75m to secure $4bn in projects around the world.
The DOJ's deputy attorney general, James Cole, said he wanted the fine to serve as a warning to other firms.
"It is both my expectation and my intention that the comprehensive resolution we are announcing today will send an unmistakable message to other companies around the world that this Department of Justice will be relentless in rooting out and punishing corruption to fullest extent of the law."
Pressure
Alstom's power turbines unit and two staff were earlier charged by the UK's Serious Fraud Office (SFO) with bribing officials.
A preliminary hearing is due to take place on 5 January, the SFO said.
The French rail and energy firm has been under pressure since the financial crisis and a consequent drop in orders for power equipment.
In June, the company agreed to sell most of its power business to General Electric (GE) so it could focus on its smaller rail unit.
When GE agreed the €12.4bn takeover deal, both sides said the US firm would take on all of its liabilities, including possible official penalties.
'Ethical'
However, on Monday the DOJ said Alstom, rather than GE, would have to pay the fine.
The takeover deal was approved by Alstom's shareholders on Friday, and is expected to close in the middle of 2015.
Alstom chief executive Patrick Kron said: "There were a number of problems in the past and we deeply regret that.
"However, this resolution with the DOJ allows Alstom to put this issue behind us and to continue our efforts to ensure that business is conducted in a responsible way, consistent with the highest ethical standards."
He said Alstom had put in place new rules to improve its internal compliance standards.