Tripadvisor fined by Italian competition regulator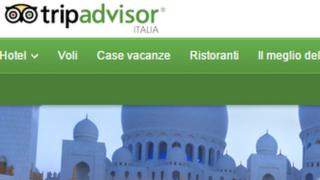 Italy's competition watchdog has fined travel website Tripadvisor €500,000 (£392,000) for publishing misleading information in its reviews.
The regulator began a seven-month investigation following a complaint from a consumer group and hotel owners.
Tripadvisor was accused of presenting its reviews as "authentic and genuine" despite not taking measures to avoid contributors publishing false opinions.
The US company said it disagreed with the decision and would appeal.
Tripadvisor publishes reviews of hotels and restaurants, and other travel information. But there has been criticism that the reviews cannot always be trusted.
The Rome-based regulator said Tripadvisor and its Italian arm should stop "publishing misleading information about the sources of its reviews", adding that the practice started in September 2011.
But the company said in a statement: "Our systems and procedures are extremely efficient in protecting consumers from a small minority of people who try to con our system.
"We firmly believe that Tripadvisor is a force for good, both for consumers and the hospitality industry."