US economy growing at quickest pace for 11 years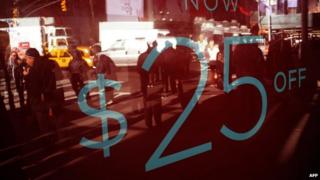 The US economy grew at an annual rate of 5% in the third quarter, its fastest pace for 11 years, official figures suggest.
The US Commerce Department said GDP rose faster than the previous estimate of 3.9% for the July-to-September period, boosted by stronger consumer and business spending.
This was the fastest rate of growth since the third quarter of 2003.
The strong figure builds on the second-quarter growth rate of 4.6%.
Much of the third quarter growth came from consumer spending, which accounts for around two-thirds of US economic activity. Consumer spending grew at an annual pace of 3.2%, the fastest since the fourth quarter of 2013.
Growth in business investment was raised to a rate of 8.9% from an earlier estimate of 7.1%. There was a stronger pace of spending than previously thought on equipment, intellectual property products and non-residential structures.
After two strong quarters for the US economy, economists predict that growth will slow to an annual rate of around 2.5% in the current October-December quarter.
But they predict growth of about 3% in 2015, which would be the fastest pace since 2005.
Jobs and spending
The US economy has struggled to regain its pre-2007 vigour following the global economic downturn, which was precipitated by the US subprime mortgage crisis.
After the recession in the US ended in 2009, growth struggled to return to its previous levels. Growth has averaged about 2.2% annually, compared with 3.3% growth in 2005.
However, analysts think US growth is set to accelerate as businesses become more confident about taking on employees.
The US unemployment rate was 5.8% in November. With more people working, solid gains are expected in consumer spending.
It is widely anticipated that the US central bank, the Federal Reserve, will begin raising interest rates in 2015.