UK home sales fall below 100,000 a month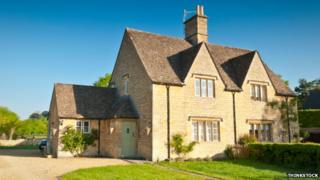 The number of homes sold in the UK fell below 100,000 a month in November for the first time in a year, according to HM Revenue and Customs (HMRC).
It said 98,490 properties were sold in November on a seasonally adjusted basis - down 2.1% on the previous month.
In a further sign of the slowing housing market, the number of people taking out mortgages has also fallen.
The British Bankers' Association (BBA) said 36,717 mortgages were approved in November, the lowest for 18 months.
The figures show that the number of mortgages being granted by the big banks has fallen by 19.5% over the last year.
The value of those mortgages is also down - from £9.2bn in October, to £9bn in November.
'Turnaround'
"Today's figures show quite a sharp chill to the housing market in recent months," said Richard Woolhouse, the BBA's chief economist.
"The BBA data provide ongoing evidence that the housing market is ending 2014 on the back foot," said Howard Archer, the chief UK and European economist at IHS Global Insight.
He added that the recent changes to stamp duty were unlikely to produce a "major turnaround" in the market.
Chancellor George Osborne announced earlier this month that most of the homes sold in the UK would pay less stamp duty.
However, experts say tighter rules on mortgage lending, and worries about an eventual rise in interest rates, are helping to slow the housing market.
The Halifax reported earlier this month that house price growth had slowed to 8.5% on an annual basis.