City Link: 2,000 staff to be made redundant on NYE - RMT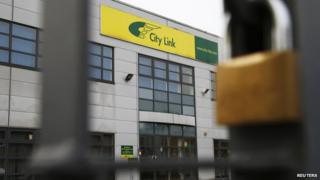 More than 2,000 staff from the collapsed UK parcel delivery service City Link are to be made redundant on New Year's Eve, the RMT union has said.
Staff learned on Christmas Day that the company had gone into administration, in a move described as "disgraceful" by the union for transport workers.
Talks between union officials and administrators Ernst & Young were held on Saturday afternoon.
EY confirmed "substantial redundancies" were expected "over the coming days".
Coventry-based City Link, which is owned by investment firm Better Capital, employs 2,727 people.
It called in administrators on Christmas Eve after years of "substantial losses".
'Smashed to pieces'
Following Saturday's talks, the RMT demanded an immediate meeting with Business Secretary Vince Cable and called on the government to launch a rescue plan to save the company as a going concern.
The union said it had been told by administrators that more than 2,000 staff will be made redundant on New Year's Eve. Remaining staff will be retained in the short term to wind down the company, union officials said.
Mick Cash, RMT general secretary, called the situation a "despicable and callous manipulation" of thousands of workers.
He said: "It is crystal clear that there has been a truly horrific catalogue of mismanagement at City Link and that staff and their union have been starved of basic information."
The government has previously said it was unable to intervene in the administration process, although Mr Cable said he would meet the union in the New Year.
However, Mr Cash said: "Clearly that is too late and the business will have been smashed to pieces by then.
"If the government can nationalise the bankers then they can nationalise City Link, which is clearly in the public interest," he added.
The firm, which was founded in 1969, was acquired by restructuring specialist Better Capital in April 2013.
It invested £40m but EY said City Link had incurred substantial losses over several years and the money could not help it turn the firm around.
'Substantial redundancies'
EY said it was currently assessing the company and the status of existing orders.
"This process will have a bearing on the number of employees retained and those that unfortunately face redundancy in the next few days," it said in a statement.
"It is anticipated that there will be substantial redundancies over the coming days, at which point the administrators will provide a further update."
It said it anticipated that "a portion of employees" would be retained for up to three months.
Administrators were currently gathering expressions of interest from parties interested in acquiring specific assets, divisions of the business or the entire firm, it added.
But given the previous unsuccessful sale process administrators were "cautious about the prospects of finding a buyer", the statement added.
| City Link employees | |
| --- | --- |
| Location | Total employees |
| Aberdeen | 19 |
| Ashford | 24 |
| Bangor | 16 |
| Basingstoke | 25 |
| Beckenham | 23 |
| Beckton | 32 |
| Belfast | 23 |
| Bicester | 28 |
| Birmingham | 70 |
| Bournemouth | 32 |
| Bristol | 50 |
| Cardiff | 44 |
| Carlisle | 28 |
| Chelmsford | 48 |
| Coventry | 404 |
| Cowes | 4 |
| Durham | 56 |
| Edinburgh | 22 |
| Edmonton | 36 |
| Epsom | 22 |
| Exeter | 41 |
| Gatwick | 42 |
| Glasgow | 75 |
| Glenrothes | 22 |
| Gloucester | 32 |
| Guildford | 24 |
| Hatfield | 116 |
| Heathrow | 132 |
| Leeds | 1 |
| Leeming | 34 |
| Leicester | 1 |
| Lincoln | 25 |
| London City | 19 |
| London West Central | 43 |
| Maidstone | 48 |
| Manchester | 67 |
| Milton Keynes | 91 |
| Morley | 74 |
| Motherwell | 27 |
| Newcastle | 45 |
| Newmarket | 1 |
| Northampton | 47 |
| Norwich | 44 |
| Nottingham | 48 |
| Peterborough | 63 |
| Plymouth | 58 |
| Preston | 52 |
| Reading | 2 |
| Rotherham | 34 |
| Scunthorpe | 28 |
| Shrewsbury | 38 |
| Southampton | 33 |
| Stafford | 40 |
| Swansea | 30 |
| Swindon | 73 |
| Warrington | 115 |
| West Bromwich | 56 |