Next expects profits to recover from warm weather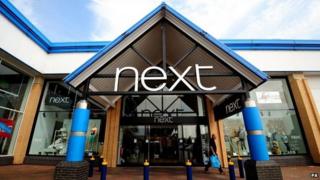 Fashion chain Next expects yearly profits to recover some of the ground lost after a warm spell in the third quarter.
It now expects full-year profits to be within £10m either side of £775m, a rise of about £5m on a profit warning it issued in October.
It said it had managed to clear some of the stock left over from the autumn in its end-of-season sale.
Total Next sales for the year to 24 December were up 7.7%, it added.
"As expected, we went into the end of season sale with significantly more stock than last year," it said. "Clearance rates, so far, have been in line with our expectations."
In October, Leicestershire-based Next cut its 2014 profit forecast by 3% to £770m after a mild autumn reduced demand for winter clothing.
In guidance issued on Tuesday, it slightly upped its profit forecast to about £775m.
The company has returned £361m of surplus cash to shareholders in the year to date, in addition to ordinary dividends.
In February, Next will pay a further special dividend of 50p per share, after paying three special dividends this year.
In the first half of 2015 Next expects sales to "face very tough comparative numbers" against the same period in 2014.
"We are currently budgeting for full price sales growth in 2015-16 to be between +2.5% and +7.5%, with the first half expected to perform at the lower end of the range. Profits are expected to grow in line with sales," it said.