Two dead in aircraft crash near Popham, Hampshire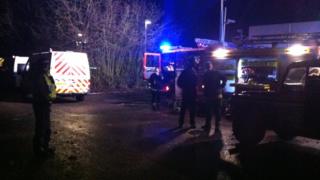 Two people have died and another is critically ill after a light aircraft crashed in woods in Hampshire.
Emergency services were called to Blackwood Forest, south of the A303 near Popham airfield, just before 15:30 GMT.
A Hampshire Police spokeswoman said one person was in a life-threatening condition at Southampton General Hospital.
Twenty-five firefighters are also at the scene.
The Hampshire and Isle of Wight air ambulance was also sent.
The police spokeswoman added the scene was close to a holiday park but the occupants of the aircraft were not believed to be linked to the site.
She said inquiries were being carried out to trace the next-of-kin of those involved.
A spokesman from Hampshire Fire and Rescue Service said: "We are there assisting with the operation and we are trying to establish what we are dealing with."