The fast-food queen who triumphed over adversity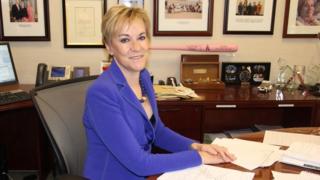 It was the sudden, unexpected death of her mother that turned Hala Moddelmog into a trailblazing businesswoman.
Mrs Moddelmog was 17 years old when her mother had a fatal heart attack. After the pain and sadness, she says it toughened her up, and gave her the drive to succeed in life.
"My mother dying when I was 17 made me realise, 'Wow, nothing is a given,'" she says.
Now 59, she can look back on a successful career, which saw her lead two of the largest US fast-food firms: she was the first woman to take charge of an international restaurant chain, when she took the helm at Church's Chicken in 1995, before going on to turn around the fortunes of sandwich store chain Arby's.
Female confidence
Born and raised in the southern US state of Georgia, after degrees in English, and journalism and communication, Mrs Moddelmog switched to marketing, working for Atlanta-based Arby's.
Moving to local rival, fried chicken group Church's Chicken (called Texas Chicken outside the US), in 1993 to take up a similar role, just two years later she was chosen as its new boss.
Mrs Moddelmog says she was confident that she could do the top job, even though she had little to no experience of the many parts of running a company, particularly one with more than 1,660 outlets across 26 countries.
"Let's just say I probably had only 50% of the competencies required for the job," she says. "I had never done operations, I had never done finance, I didn't have an MBA, I had never done HR, I had never done real estate."
She says this is exactly the sort of thing that often holds women back at work. "Women think they need to have 100% of the core competencies before they'll take a promotion, ask for a promotion, take a job," she says.
"Men will raise their hands for a promotion, or take a job, when they have only 60% of those competencies."
Mrs Moddelmog, who gives regular talks on how women can better advance themselves in business, says she inherited her own confidence from her late mother, with whom she shares her first name.
She wants more women to follow her lead. "One of my crusades is to get women to take more risks, not think they've got to have all the answers, not think they've got to have all the competencies, and really just step up."
At Church's Chicken, she says she learned on the job, and surrounded herself with skilled colleagues who did have the expertise. And under her leadership the company enjoyed eight straight years of sales increases.
Losses to profits
Mrs Moddelmog later returned to Arby's, where she had begun her career in fast-food, to lead the company from 2010 to 2013.
The sandwich store chain was down in the dumps at the time, after four years of falling sales.
Mrs Moddelmog quickly turned things around, by closing loss-making branches, introducing additional menu items and a new advertising campaign, and generally improving standards.
She transformed losses into annual profit growth of more than 85%.
Fundraiser
In between her time time at Church's and Arby's, Mrs Moddelmog took some time out of work when she was diagnosed with breast cancer.
After a double mastectomy, the experience inspired her to go into the healthcare sector, and in 2006 she became president of the breast cancer charity Susan G Komen.
Her latest role is as the president of Atlanta's chamber of commerce, the Metro Atlanta Chamber (MAC).
A born and bred Georgian who has worked in Atlanta for many years, she says she greatly enjoys her job as one of the city's main cheerleaders.
"I am without a doubt a giant Atlanta booster," she says. "I think Atlanta is a fabulous place."
Improving Atlanta
Her job involves trying to persuade more businesses to set up shop in the city, joining the likes of Coca-Cola, Delta Airlines, CNN and Home Depot, who all have their headquarters in Atlanta.
Yet Mrs Moddelmog also freely admits that Atlanta still has a number of things to improve, such as tackling poverty and boosting employment opportunities, which she is also tasked with trying to improve.
"We do have one of the largest income inequalities of any of the metro areas around the country," she says. "Our income mobility is not what it needs to be.
"[And] we've got a lot of work to do to get the region fully employed."
Mrs Moddelmog also says that Atlanta has to improve its public transport system if it wishes to retain young graduates from local universities, or attract those from other parts of the US.
A recent survey showed that fewer than 5% of commuters in Atlanta use the city's buses or railway network.
Mrs Moddelmog says: "The US cities that are going to win [economically in the future] are going to have 'millennials' flocking to them. [And] millennials insist on transit."