China's car sales growth halves in 2014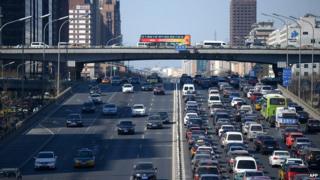 Growth in vehicle sales in the world's largest car market, China, halved last year as the country's economic expansion slowed.
The China Association of Automobile Manufacturers (CAAM) said that sales rose by 6.9% in 2014, compared with growth of 13.9% a year earlier.
The industry body also expects the market to expand by 7% this year, in line with China's economic growth.
Global carmakers have been grappling with slowing sales in China.
On Sunday, Volkswagen, which is Europe's biggest carmaker and the top selling global brand in China, said its sales in the country rose 12.4% to 3.67 million vehicles last year, compared with growth of 16% in 2013.
Japanese carmaker Toyota missed its full-year sales target in China last year, selling 1.03 million cars compared with its aim of 1.1 million.
However, despite the cooling of the car market in the world's second-largest economy, its size is still much bigger than that of its closest competitor - the US.
More than 23 million vehicles were sold in China last year, compared with an estimated 16.5 million in the US.