Debenhams shares fall 6.7% despite record Christmas sales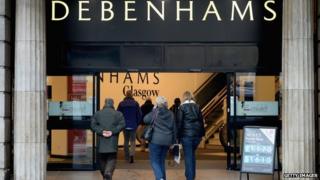 Debenhams saw its shares fall 6.7% in Tuesday trading, despite having record sales in the week running up to Christmas.
Overall sales at Britain's second-biggest department store fell 0.8% in the last three months of 2014.
Demand for jumpers and coats across the industry was hit by warm autumn weather.
However, over the last four weeks, underlying sales were up 4.9% and online sales rose 28.9%.
Michael Sharp, chief executive of Debenhams, said: "I am pleased with our performance in the critical Christmas trading weeks, driven by our strength in a diverse range of product categories and a strong marketing campaign focused on gifting.
"Our performance steadily improved following the well documented challenges in the clothing market in the autumn."
Keith Bowman, equity analyst at Hargreaves Lansdown stockbrokers, said: "The group has delivered a mixed and broadly disappointing update. Full-year profit estimates are, at best, likely to remain unchanged.
"More favourably... online sales are growing, further overseas stores have been opened, whilst investments in supply chain and systems are being made."
Debenhams warned that higher sales of low-margin items meant that margins over the whole year would be at the lower end of expectations.
Mr Sharp said he expected the trading environment to remain competitive and was not anticipating a big change in consumer confidence in 2015.