House prices up 11% for first-time buyers, says ONS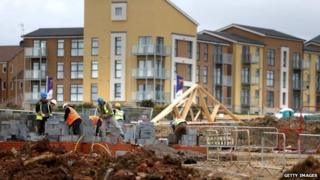 The average house price for first-time buyers rose by 11% in the year to the end of November compared with 9.5% for existing owners, official figures show.
First-time buyers paid an average of £208,000 for their first home, according to new data from the Office for National Statistics (ONS).
Existing owners paid more for their next home, typically £312,000 in November, the ONS said.
Overall, UK house prices rose by 10% in the year to the end of November.
This was a slowdown compared with the annual increase of 10.4% the previous month.
Prices rose fastest in Northern Ireland, where they climbed 11.7%, followed by a 10.4% rise in England, a 4.4% increase in Scotland and a 3.1% rise in Wales.
House price calculator
Use our calculator to see where you can afford to rent or buy
Regionally, price rises were again led by London (up 15.3%), the East of England (up 11.9%) and the South East of England (up 10.8%).
The slowest rise in the English regions was a 5.1% increase in the West Midlands.
Mortgage brokers say that further reductions in interest rates for home loans are having a sustaining effect on the market.
However, housing charity Shelter said that rising prices had pushed home ownership beyond the reach of many individuals.
Various housing experts have suggested that property price rises are likely to slow in the coming months, with a rough consensus of house prices increasing by 4% over 2015.
Experts' predictions
Name
Prediction for 2015
Original 2014 estimate
Ray Boulger
4% rise
8% rise
Henry Pryor
4% rise
5% rise
Ed Stansfield
4% rise
4% to 5% rise
Miles Shipside
4% to 5% rise
6% to 8% rise
Peter Bolton King
3% rise
8% rise
Martin Ellis
3% to 5% rise
4% to 8% rise
Nationwide index
Actual change: 7.2%