Game Digital blames sales fall on tough competition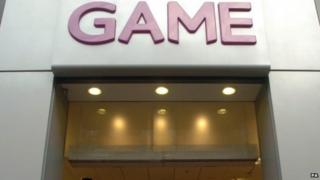 Game Digital, the video games retailer, has blamed a "highly competitive Christmas trading period" for a drop in sales over the festive period.
The firm, previously known as Game Group, said group sales fell 6.7% in the 11 weeks to 10 January.
It said "increased promotional activity across the market" had driven up hardware sales, such as Xbox One and PlayStation 4 consoles, but at lower average selling prices and margin.
It expects flat full year earnings.
For the full financial year ending 1 August, it said underlying earnings would be "broadly in line" with 2014's total of £51.3m.
This was much lower than the £63.7m analysts had expected.
Despite the drop in sales, Game's chief executive Martyn Gibbs said the group was now "well placed" to capitalise on hardware sales.
"We now have a huge customer base...to sell both mint and pre-owned physical and digital content accessories to over the long term," he added.
Game, which relisted on the London Stock Exchange last year just two years after the firm collapsed into administration, announced the results after the stock market closed on Tuesday.