George Osborne plans new budget surplus rules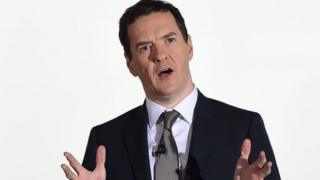 Chancellor George Osborne has proposed new rules to ensure governments run a surplus in "normal times".
The Office for Budget Responsibility would have the power to decide when governments could spend more than they were taking in revenue, he said.
Mr Osborne told the Royal Economic Society his plan was for "when the bad times come".
A Labour spokesman said the idea was "chaotic" and it would make different choices to cut the deficit.
Mr Osborne said: "In the good times we stay in surplus - raising more money than we spend and using that to pay down our debts.
"And when the bad times come, the government will have to set out a clear plan to get back to health."
Inflation fall
A Labour spokesman said: "This is totally chaotic from a chancellor who has broken all his promises and missed all his targets on the deficit and living standards.
"Labour's plan will cut the deficit every year and get the current budget into surplus and national debt falling as soon as possible in the next Parliament.
"But we'll make different choices from the Tories, who want to risk cutting public spending back to a share of national income last seen in the 1930s."
Mr Osborne also said he hoped to recoup the taxpayer's investment in 80% government-owned Royal Bank of Scotland.
"Early in the next parliament we will have to make a decision on the timing of any exit programme from RBS," he said.
Oil drop
Mr Osborne said the sharp fall in the UK inflation rate should not be feared.
"We should not confuse this welcome news with the threat of damaging deflation that we see in the eurozone," he said.
His speech on Wednesday came a day after official figures showed the UK inflation rate had fallen to 0.5% in December - its lowest rate since May 2000.
Economists have warned the fall means an outright drop in prices is possible.
The chancellor said the sharp drop in the Consumer Prices Index was "almost entirely driven by external factors such as the oil price", which has more than halved since June, and is "much more welcome than in the eurozone", where inflation has fallen to -0.2%.
'Self-reinforcing spiral'
Mr Osborne said that the UK could experience "a few months of very low or even negative inflation" without any significant risk to the economy.
"There [in the eurozone] the debate has understandably turned to the dangers of deflation - the risk of a self-reinforcing spiral where economic activity falters, consumers defer purchases as prices fall and nominal debt burdens become ever harder to manage.
"Rising real incomes, a recovery spreading to all parts of our economy, and family budgets that can stretch that little bit further - let's celebrate these effects of low inflation, not fear them."
Bank of England governor Mark Carney has also sought to calm nerves over the risk of deflation, saying the UK has the tools to deal with it.
On Tuesday, Mr Carney told the BBC that keeping interest rates at record low levels for longer could be a way of mitigating low inflation.
And Danny Alexander, Liberal Democrat Chief Secretary to the Treasury, said lower inflation was acting "like a giant tax cut for the economy".
Speaking on the Today programme, he said: "There's a big difference between something that is a one-off effect of the sort that we are seeing, compared to the persistent, problematic deflation that you have seen in some countries around the world over different periods in history.
"This helps households around the country with many of the financial pressures that people are facing."
But Labour's shadow Treasury minister, Shabana Mahmood, said the squeeze on wages and living standards meant working people "are £1,600 a year worse off under this government... and falling energy costs are still not being fully passed on to consumers".
---
Inflation calculator
---