Shanghai FTZ: Foreigners to 'fully own' e-commerce firms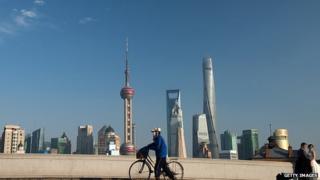 China has said that foreign investors will be allowed to "fully own e-commerce companies" in its Shanghai Free Trade Zone (FTZ).
The move is part of a pilot scheme, state-owned news agency Xinhua said.
The FTZ was set up in September 2013 and has acted as a testing ground for economic reforms by China's government as it seeks to boost growth and productivity.
It is widely seen as a crucial part of the country's market-oriented reforms.
Analysts said the move to allow foreigners to fully own e-commerce companies in the Shanghai FTZ was significant.
"Foreign e-commerce firms were previously required to have a local joint venture partner for their e-commerce business," said Rajiv Biswas, Asia-Pacific chief economist at IHS.
"So this move represents a significant economic reform, liberalising foreign investment into e-commerce businesses in the Shanghai FTZ."
Mr Biswas said the changes created a more level playing field as Chinese firms sought greater access to big e-commerce markets outside of China, particularly in the US and in Europe.
"The liberalisation of Chinese regulations for foreign investment into e-commerce in China needs to be seen against the wider context of the rapid expansion of Chinese e-commerce firms," Mr Biswas said.
"Notably the Alibaba Group, following its very successful IPO in 2014."
But he said the reforms still represented "a significant opportunity" for foreign e-commerce firms due to the large size of the Chinese consumer market.
FTZ expansion
Last month, state-owned news agency Xinhua reported that China was set to expand its Shanghai FTZ to include "the city's commercial and financial centre Lujiazui, as well as Jinqiao and Zhangjiang districts".
The government said the expansion would help China "explore new paths and accumulate experience for the country's further and overall reform".
China also announced in December that three new trade zones would be set up in Guangdong, Fujian provinces and Tianjin municipality.
It said the new zones would offer "eased investment rules to speed up reforms amid economic hardship".
Xinhua said since the launch of the Shanghai FTZ in 2013, some 27 economic reform measures had been applied in other parts of China.