US retail sales fell 0.9% in December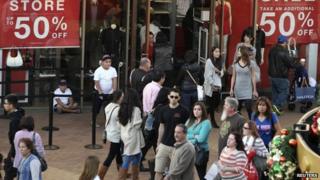 Retail sales in the US fell in December, according to the latest figures from the Commerce Department.
Sales fell by 0.9%, which was the biggest monthly decline since January last year.
The figures mean that in the past year, sales in the shops, stores and supermarkets of the US have risen by just 4%, which was the lowest growth rate since 2009.
Spending by consumers accounts for more than two-thirds of the US economy.
In addition, previously published figures for November were revised down.
There was an increase in sales that month of just 0.4%, instead of the earlier estimate of an increase of 0.7%.
Harm Bandholz of UniCredit Economics said of of December's figure: "It was the largest monthly decline since January, when inclement winter weather derailed consumption activity."
Despite this slowdown in retail spending, the US economy is still growing and creating more jobs.
Figures earlier this month showed that a further 252,000 jobs were created in in December, while the unemployment rate fell from 5.8% to 5.6% - the lowest rate since June 2008.
Jim O'Sullivan, chief US economist at High Frequency Economics, did not see the latest retail sales data as gloomy.
"Consumer confidence has continued to rise," he said.
"All in all, we do not view these data as convincing evidence that the underlying trend in consumer spending is suddenly weakening."
This view was supported by Paul Diggle, an economist at Capital Economics,.
"`This isn't the start of a collapse in activity... as that doesn't fit with the strength of employment growth and consumer confidence."
"As such, retail sales will strengthen again before too long."