Property rental costs up 3% in 2014, says Your Move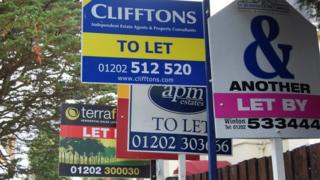 The cost of renting a home in England and Wales rose by 3% over the course of 2014, according to research.
The average residential rent cost £767 a month by the end of the year, compared with £745 at the end of 2013, estate agents Your Move said.
Your Move and fellow estate agent, Reeds Rains, said that rents fell by 0.1% from November to December.
This was a smaller fall than was often the case at this time of the year, they said.
"Recent months have shown a divergence from usual seasonal norms. Historically, there is a tendency for rents to ease in the winter, particularly December," said Adrian Gill, director of Your Move and Reeds Rains, both of whom are part of the LSL property services group.
"With fewer tenants willing to relocate in the festive period, landlords usually compete to fill empty properties and agreed rents tend to dip as a result. Last month that happened - and rents fell compared to November - but by much less than the usual extent."
The proportion of tenants in arrears rose in December. The festive financial squeeze left 8.9% of tenants in arrears, the highest proportion since the previous December.
The figures show that the cost of renting rose in eight out of 10 regions in England and Wales during the course of 2014, but rents fell over the year in the North East of England and the South West of England.
House price calculator
Use our calculator to see where you can afford to rent or buy