Davos: Why I keep coming back to the 'Magic Mountain'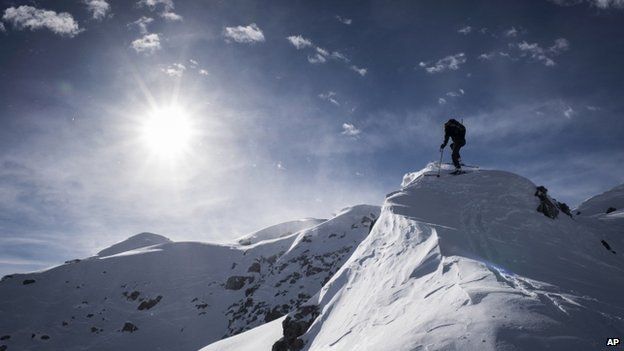 It's fair to say that Davos changed my life.
This will be my seventh time at the World Economic Forum's (WEF) annual meeting, and at each one magical things have happened.
In 2008, I was one of three UK entrepreneurs nominated as a Technology Pioneer. I still remember receiving the invitation, together with a big binder with WEF's slogan printed on it: "Improving the state of the world".
This deeply resonated with me. At that time in my life I was bored running my software company and wanted to spend time doing more meaningful things.
So I decided to reset my personal vision and dedicate myself to "changing the world for better, all of it at the same time, ideally without anyone knowing it's me". A lofty vision for sure, but I am an extremely practical person with a background in collective intelligence and was sure I would work out a plan.
Davos is known as the Magic Mountain, and on the second day I shared an early morning shuttle bus ride from Klosters with a tall Zimbabwean, a politician from the MDC opposition party.
We talked about my plan to change the world and he invited me to have a coffee to discuss the upcoming 2008 elections.
Be open to opportunity - a random conversation can change your life
Prepare your topic hooks - the 4-to-5 key words that define what you do and what you're looking for
Don't be star struck - it's just not cool
Killer heels are essential - and no one will mind if you take them off to dance later
Silly hats are ok - this is the only place you can wear your souvenirs from Moscow and look normal
Don't ignore spouses - often they feel left out but are usually just as interesting, or even more interesting, than their partners
Stop and look around - Davos is an amazingly beautiful place so look up from the iPhone!
Help out strangers - could be directions, a ride in your Greener Davos limo - it's a karma thing
Be human after 9pm - there is a time for networking and that pretty much stops when the music starts
Take a day off afterwards - Davos is an intense experience in many ways, so chill, maybe take an extra day to ski or do nothing
I had only had two hours of sleep, I knew nothing of the country, nor anything about democracy, but I was able to come up with a plan that had 1,000 people taking photos of their local election results using camera phones.
Mugabe lost that election by 50.4% as a direct result of this citizen vote count. The power of serendipity in action, and a great pilot project for my change-the-world plan.
As with everything in life, you get a lot done when you have a vision in mind.
This can make for highly effective networking, albeit in a somewhat mercenary fashion. My first two years felt as though it was a never-ending stream of conversations and card swapping, with a desperate daily recap of who was who and what was supposed to happen next.
One year I tried to come with no vision at all. That was very refreshing and included a 1am conversation with Luke Nosek of Founders Fund on play-creating a company based on placebos, and chatting in a restroom with party-crasher Mick Jagger.
Davos used to be a solitary experience for many people, both newbies and veterans alike. So four years ago a few friends and I decided to start sharing apartments, student-style.
Rather than sleep a few hours in overpriced hotel rooms it is more human, and more in the original spirit of Davos, to share the experience with others.
This has proved to be a great equaliser: last year there were two government ministers on bunk beds in our flat, and this year two top-notch venture capitalists are in sleeping bags.
Attendees are also becoming surprisingly tech savvy.
This year there is a huge community who are using an app called Telegram to co-ordinate meetings and help each other out.
A few years ago all we had were super-expensive SMS text messaging from person to person. This new approach, a "digital nervous system for Davos", helps people decide whether to brave a 30-minute walk in the snow for the next party or stay put at a comfy corporate reception.
Perhaps the most surprising thing is how young Davos has become.
The forum has made an explicit effort to bring in thinking and experience from a younger, diverse audience of high achievers.
There are two forum communities that are driving this: the Young Global Leaders and the Global Shapers. The YGLs, as they are known, form a strong and cohesive tribe, comprising the likes of Jimmy Wales of Wikipedia and Marissa Mayer of Yahoo.
They get to call themselves "young" even though they don't quite fit the YGL criterion of being under 40 when nominated, much to the amusement of the newer tribe of Shapers.
This army of 4,000 twenty-somethings from cities around the world is breathing new life and future direction into the current powers that be, considered by some as the "Greying Suit Tribe".
I have so many memorable moments.
There was the time in the CNBC Lounge when Charlize Theron learnt about brain scanning from my neuroscientist friend, Professor Olivier Oullier.
Or when I bumped into the education philanthropist Sunny Varkey and ended up helping him develop the $1m Global Teacher Prize with actor Kevin Spacey as one of the Prize Academy judges.
I remember fighting the crowd at the Google party to get a round of drinks in for Martin Sorrell of WPP and Facebook's Mark Zuckerberg at his first Davos.
And the long wait in the cold as I failed to get in to the infamous Sean Parker "Taxidermy" party of 2013.
The thing about Davos is that whilst the headlines may be overwhelmed by economics and geopolitics, there is a tremendous amount of good that gets done in practice.
The Magic Mountain is definitely the place to be if you have a big vision to change the world.
Mark Turrell is a World Economic Forum Young Global Leader and chief executive of Orcasci.