Royal Mint revives 'refinery' brand with new gold bars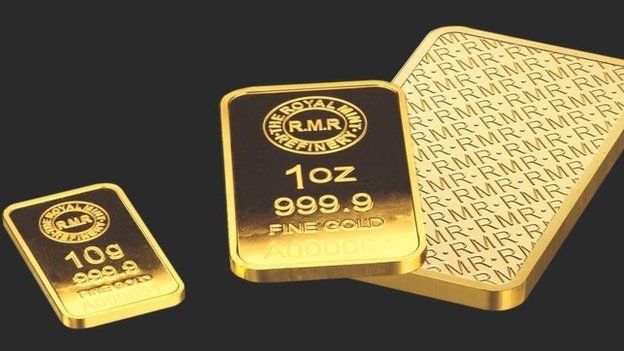 The Royal Mint is to produce gold and silver bars under its "refinery" brand, last used nearly 50 years ago.
It is the first time since 1968 that the public will be able to own bars imprinted "RMR", standing for Royal Mint Refinery.
The Royal Mint Refinery operated in London for more than 100 years, purifying gold and silver bullion from places such as South Africa.
However, production stopped at the end of the 1960s.
The largest bar on offer will be 100g of either gold or silver.
According to current prices, a 100g bar of 24 carat gold costs £2,868.
The 100g bar of fine silver costs £71.
However, buying gold can be a risky investment, since the price has performed poorly over recent months.
Nevertheless, there has been substantial recovery in the gold price since the start of the year.
This week it hit $1,300 an ounce for the first time since August 2014.
The value has increased ahead of the European Central Bank's decision on quantitative easing (QE), expected on Thursday.
The gold bars do not carry VAT, and in some circumstances can be held as part of a pension fund.
Related Internet Links
The BBC is not responsible for the content of external sites.