UK car production at seven-year high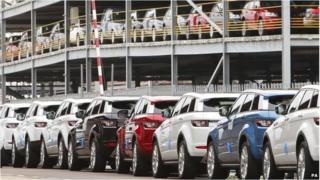 Car plants in the UK produced more than 1.5 million vehicles last year, the highest number since 2007, annual figures show.
The Society of Motor Manufacturers and Traders (SMMT) said that demand for premium brands, such as Jaguar Land Rover, had helped boost annual sales by an overall 1.2%.
However, for the second year running, the number of vehicles exported fell.
In 2014, a car was produced every 20 seconds.
'Success'
Mike Hawes, the SMMT's chief executive, said: "Placed in context, a 1.2% growth in UK car manufacturing in 2014 represents a very successful year.
"The industry has overcome various challenges, including slower than expected EU recovery and weakness in some global markets."
He added that the popularity of premium and specialist brands around the world meant that the overall value of car exports had doubled between 2005 and 2014.
He said that more than £7bn of investment into UK production facilities had been announced in the past two years.
Nissan's factory in Sunderland built the most cars by any single British-based manufacturer, with 500,238 rolling off its production line. The other big figures were:
449,507 vehicles produced at Jaguar Land Rover's plants in Castle Bromwich, Halewood and Solihull
178,993 at the Mini site at Cowley, Oxford
172,215 by Toyota at Burnaston, Derby
121,799 for Honda at Swindon
77,836 by Vauxhall at Ellesmere Port
---
Analysis: John Moylan, BBC industry correspondent
The government says the car industry has been one of the driving forces behind the economic recovery.
That can be seen in places like Halewood, on Merseyside, where production of Jaguar Land Rover's Discovery Sport is ramping up this week. The new model is the result of £200m of investment. Employment at the plant has almost tripled in recent years.
But while overall car production is up, the 1.5 million figure was still short of industry forecasts. The volumes coming out of Honda and Toyota's plants fell. And the industry's strategy of exporting most of what it makes was hit by economic headwinds in Russia and mainland Europe.
However, new models are now coming off assembly lines at Nissan, Mini and Jaguar Land Rover. Vauxhall is also expected to start production of the new Astra at Ellesmere Port later this year.
So, the SMMT expects the number of UK built cars to soar in the coming years and break the all time car production record - set back in the 70's - by 2017.
---