SkyMall aeroplane catalogue files for bankruptcy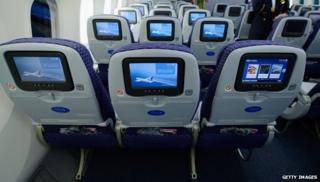 SkyMall, the catalogue found on most US airlines and popular for selling quirky products like garden gnomes and 'orbit wheels', has filed for bankruptcy.
"With the increased use of electronic devices on planes, fewer people browsed the SkyMall in-flight catalog," the company's interim chief executive, Scott Wiley, said in court papers.
The magazine's parent company, Xhibit Corporation, said SkyMall revenues were $15.8m in 2014.
That is a nearly 50% decline from 2013.
In 2014, the company suffered large setbacks when both Delta Airlines and Southwest Airlines said they would cease carrying the catalogue.
Furthermore, it had been hurt in recent years by the sluggish US economic recovery.
"A substantial portion of the products and services SkyMall offers are products or services that consumers may view as discretionary items rather than necessities," the company wrote in its filing.
SkyMall's parent Xhibit said it would hold an auction of the firm's remaining assets on 24 March.
It said the firm had approximately $1m to $10m in assets and liabilities that ranged from $10m to $50m.
The company, which was founded in 1989, is based in Phoenix, Arizona and has around 150 employees.