ECB executive warns over 'weakened' European Union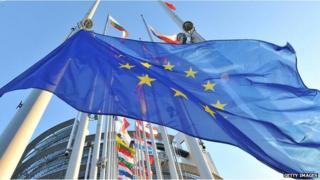 A top official at the European Central Bank (ECB) has warned that unemployment and low growth are undermining the foundations of the European Union.
Speaking at the World Economic Forum in Davos, Benoit Coeure, a member of the executive board of the ECB, said the bank could not create lasting growth as that was down to governments.
He urged governments to speed up economic reform.
On Thursday the ECB launched a €1.1 trillion economic stimulus plan.
Mr Coeure said: "We've done our part on Thursday. Others have to do their part."
He said there was "nothing" the ECB could do to lift the growth rate of Europe in a "lasting way".
"We can make it cheaper to invest, but people have to want to invest and that is the role of finance ministers, that is the role of government," Mr Coeure said.
'Entrenched unemployment'
Mr Coeure said the ECB would be making that point at the Eurogroup meeting on Monday when the ECB holds talks with finance ministers from the eurozone.
"With low growth, entrenched unemployment - people being dragged out of the labour market - we are seeing the whole political foundation of the European project being weakened. This cannot last for too long," he said.
"Being patient is just a risk we don't want to take."
Record low interest rates have failed to boost the 19-country euro area.
So, the ECB plans to buy €60bn bonds each month from banks until the end of September 2016, or even longer, in what is called quantitative easing (QE).
QE in theory increases the supply of money, something that keeps interest rates low and encourages borrowing and therefore spending.